Back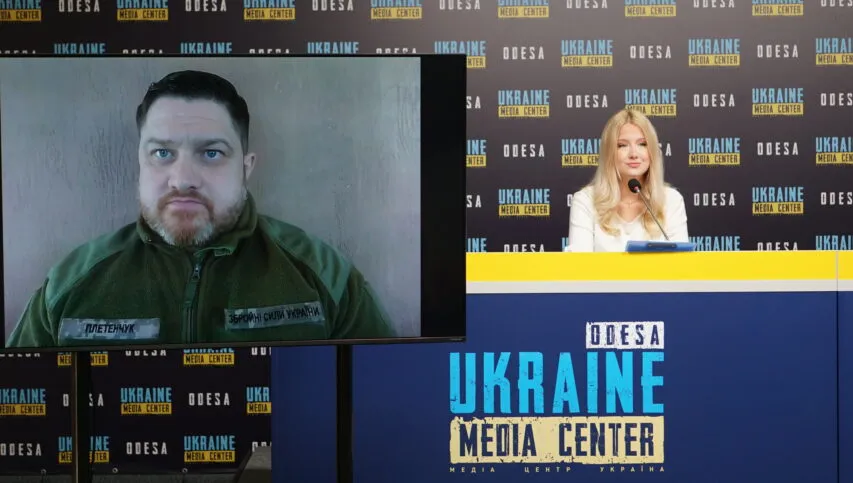 Photo by Media Center Ukraine – Odesa: Dmytro Pletenchuk, chief of the press service of the "Grim" (Thunder) tactical group
April 18, 2023, 12:57
On April 18, the russian army shelled Kherson again — one person was killed, 6 were wounded
Lately there were fewer and fewer cases of shelling. Dmytro Pletenchuk, chief of the press service of the "Grim" (Thunder) tactical group, told about this at a briefing at the Media Center Ukraine — Odesa.
"There were fewer and fewer casualties, but, unfortunately, on April 18, at approximately 10 a.m., the enemy shelled Kherson again, the Russians aimed directly at the center of the city. One person died, 6 are in the hospital. Now it is impossible to say what exactly they used against the city, because the threat of shelling is not over yet, and the police has not yet worked on the scene," — he officer said.
He added that the russians continue to bombard the Kherson oblast with almost all types of weapons — cannons, howitzers, tanks, heavy mortars, MLRS`s, drones, and aircraft.
"They use aviation to bombard settlements along the right bank of the Dnieper River. This is a rural area. They strike at random, using winged aviation bombs," — Pletenchuk noted.
The officer also added that despite the threats, people are returning to Kherson.
"This is not very good because there are no safe locations in the city. And when I see people with children, I wonder why? People are also returning to settlements near Kherson. As I see it, they are setting up greenhouses, greenhouses, trying to return to normal life," — Pletenchuk added.
Read more: https://mediacenter.org.ua/news