Back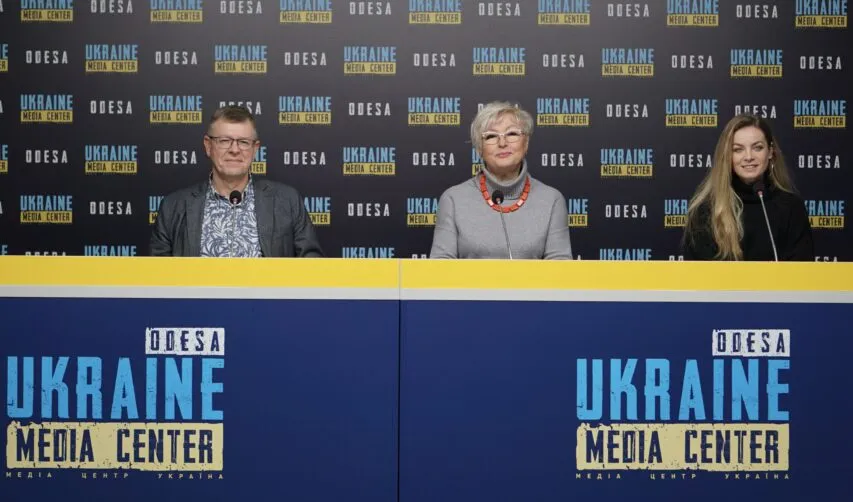 Photo by Media Center Ukraine – Odesa: Andriy Lyubov, director of the show, founder of the NGO "Artmasternia "Bloom"; Hanna Misyun, associate professor of the cultural studies department of the National University "Odesa Polytechnic"; Yulia Kharchuk, actress in the play "Bomb shelter: Is It Possible to Survive?", actress of the Odesa Academic Ukrainian Music and Drama Theater named after V. Vasylko
April 11, 2023, 14:16
On April 13, a documentary performance "Bomb shelter: Is it possible to survive?" will be presented in Odesa
First of all, it will be a theatrical premiere for professionals. After that, the authors will organize several open performances. Andriy Lyubov, director of the performance, founder of the NGO "Artmasternia "Bloom"(Artworkshop Bloom) told about this at a briefing at Media Center Ukraine – Odesa.
"The project started in August. The idea to create such a documentary performance came after the bombing of the drama theater in Mariupol. Then we interviewed 40 people from different parts of the country who survived the bombing – Lviv, Kryvyi Rih, Dnipro, Kyiv. We selected 10 interviews, on the basis of which we made the performance," – the director said.
He added that at first it was planned that the performance would be held in bomb shelters. But then representatives of the Odesa Opera and Ballet Theater contacted the authors and offered to hold the premiere in the theater's bombshelter.
"Therefore, on April 13, we will hold a closed premiere for theater professionals. We will record it on video and make English subtitles. And then we will try to give some open performances", – Andriy Lyubov added.
He also said that the idea of the play was supported by the European Union as part of the Scholarship Program for Civil Society Leaders of the Eastern Partnership Countries. The main goal of the play is to show it in Europe. Therefore, after the premiere in Ukraine, they will try to show the play in the program of the Avignon Theater Festival.
Hanna Misyun, associate professor of the department of cultural studies of the National University "Odesa Polytechnic", noted that it is very good that the play will be held in a closed space. Where the audience will be close to the actors.
"When people next to the actors will experience the first days of the war, it will in some way help to experience catharsis – cleansing. And the understanding that not everything is lost. Now we understand that we are hardened, and who we really are. And it is also important that our European partners experience and immerse themselves in our experiences, and then push their authorities to help us even more," – Hanna Misyun emphasized.
Read more: https://mediacenter.org.ua/news