Back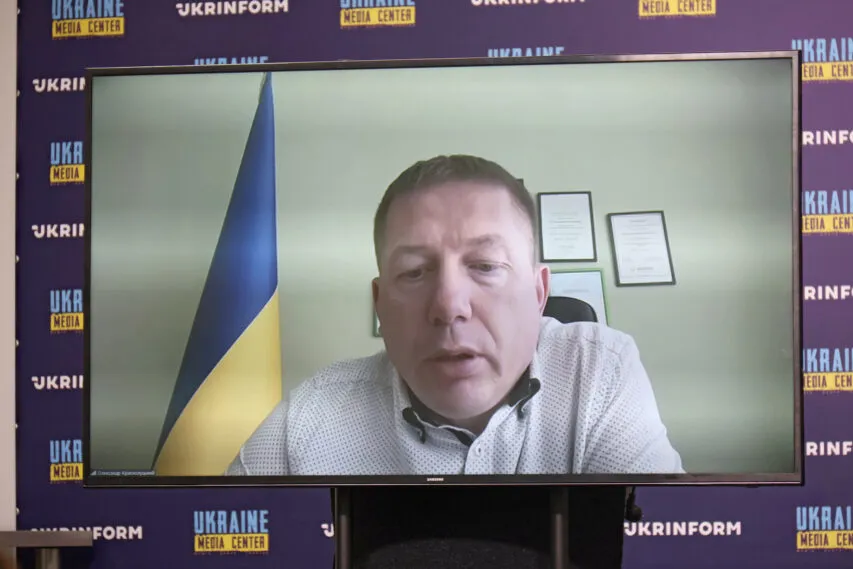 Oleksandr Krasnolutskyi, First Deputy Minister of Environmental Protection and Natural Resources of Ukraine (online), Media Center Ukraine — Ukrinform
June 7, 2023, 19:39
Oleksandr Krasnolutskyi on the occupiers' blowing up of the Kakhovka HPP: the biggest 'ecocide' in Ukraine since the beginning of the full-scale invasion
The breach of the Kakhovka dam will cause huge environmental damage, threatening biodiversity, water resources, and soil, in particular.
It was emphasized by Oleksandr Krasnolutskyi, First Deputy Minister of Environmental Protection and Natural Resources of Ukraine, during a briefing at the Media Center Ukraine – Ukrinform.
"Today, we witness devastating flooding causing huge biodiversity loss. There are national nature parks on the territory where the water flows, which were created to preserve the Red Data Book of Ukraine of threatened plants and animal species. Now they are under the threat of death," he said.
Mr. Krasnolutsky noted that the disaster would cause significant damage to Ukraine's water resources.
"We see the damage caused to water resources, as it being polluted due to the rapid flow of chemical elements and other substances into the water," he said, adding that the disaster will damage soils, including soil washouts.
At the same time, according to Mr. Krasnolutskyi, since the Russian crime at the Kakhovka hydroelectric power plant, the environmental inspection has been initiated to record the damage caused to the environment, nature reserve fund, forests, and water resources of Ukraine.
He emphasized that all relevant specialized services and structural units are currently deployed in the Kherson region to record and minimize the damage caused to the environment.
Read more: https://mediacenter.org.ua/news