Back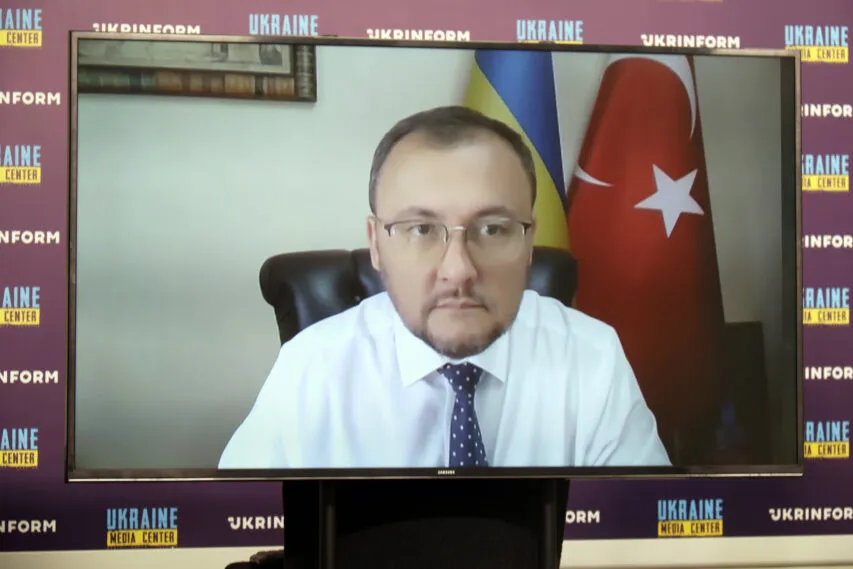 September 7, 2023, 15:10
Offer on Grain Deal's operation without russia's participation forwarded to Turkish side – Vasyl Bodnar
The proposal on the operation of the Grain Corridor without russia was presented to the Turkish side. However, there is no final confirmation yet.
Vasyl Bodnar, Ukraine's Ambassador Extraordinary and Plenipotentiary to the Republic of Türkiye, made this statement during a briefing at Media Center Ukraine – Ukrinform.
"The offer to work without russia has been forwarded to the Turkish side. There is no final confirmation yet. But the ships, already sailing and passing through the territorial sea of Romania, Bulgaria, as well as Türkiye, pass through the straits without restrictions. In fact, this is a rational solution, since, as you remember, during the work of the Grain Deal itself, there were quite frequent cases of the aggressor country restricting the passage of ships to Ukraine, and regulating or trying to regulate access to certain ports. For example, it is the russian side that is to blame for Pivdennyi not working for several months when this initiative (was in effect – Ed.). There were also restrictions on the list of products that could be exported from the territory of Ukraine," the Ambassador explained.
He noted that the "humanitarian corridor," through which only four ships from Odesa have passed so far, imposes no restrictions on Ukrainian products. And this, according to Vasyl Bodnar, can be one of the solutions to this situation.
In addition, the Ambassador emphasized that Türkiye and the UN are currently discussing the results of negotiations with Ukraine and russia to develop positions that sides can agree on.
In addition, high-level communication between Ukraine and Türkiye is expected to establish next steps.
"Perhaps it will happen in the coming days, perhaps at the UN General Assembly. In order to understand where we can move further. We, of course, take a constructive position in relation to our partners, Türkiye and the UN, as mediators, and we will work out mechanisms that will be beneficial for our side and won't damage the principled position not to lift sanctions against russia," he added.
Read more: https://mediacenter.org.ua/news