Back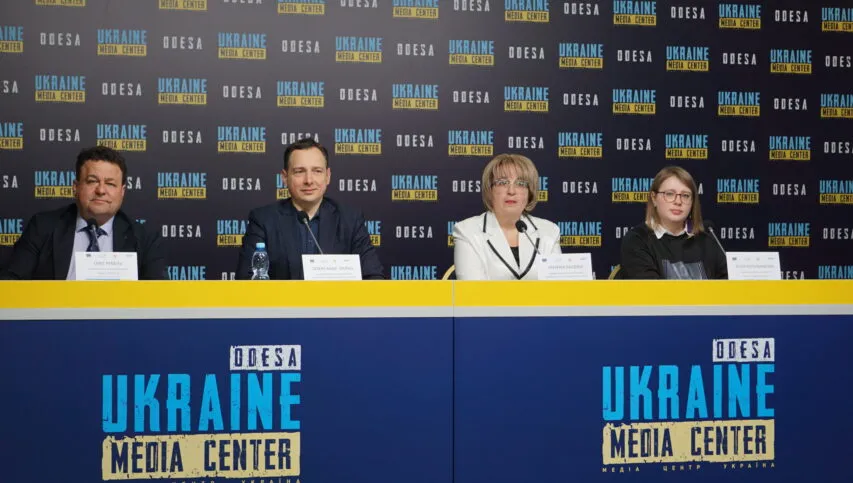 Photo by Media Center Ukraine – Odesa: Oleh Rubel, national coordinator of the BSB1021 CIRCLECON project; Oleksandr Laiko, deputy director for scientific work of the State University "Market Institute of the Institute of Market and Economic and Environmental Research of the National Academy of Sciences of Ukraine"; Maryna Baldzhi, academician of the Academy of Economic Sciences, professor of Odesa Maritime University; Yulia Kotelnikova, researcher of the Ukrainian Regional Center for Marine Ecology, Head of the NGO Center for Democratic Development of the Sea "Synergy"
April 25, 2023, 14:36
Odesa's residents will be taught modern practices of the circular economy in the Black Sea basin countries
A cycle of trainings in offline and online formats dedicated to this issue will be held on April 25-28 in Odesa as part of the SB1021 CIRCLECON project. Oleh Rubel, the national coordinator of this project, told about this at a briefing in the Media Center Ukraine – Odesa.
He noted that this project is aimed at promoting the circular economy model, disseminating information on waste prevention, reduction and management, as well as coordinating the efforts of all interested participants in the Black Sea Basin.
"The uniqueness of this project is that before everyone worked separately – ecologists separately, economists separately. And this project unites business practitioners and scientists. And the combination of joint efforts and good will of all can give a general result. Business is already open to dialogue. But we need the support of the authorities and public understanding that the problem of ecology needs to be solved," – Maryna Baldzhi, academician of the Academy of Economic Sciences, professor of Odesa Maritime University said.
Oleksandr Laiko, deputy director for scientific work of the State University "Market Institute of the Institute of Market and Economic and Environmental Research of the NASU" noted that the project strengthens the joint international struggle to reduce the impact on the environment.
"The future of economic development is a trend towards the creation of ecological industrial parks. A circular economy, when there is no waste, everything is recycled as much as possible, will stimulate an increase in the added value of goods and an increase in jobs. Now this is one of the areas of development that the Ministry of Economy of Ukraine has emphasized," – the scientist added.
Yulia Kotelnikova, researcher of the Ukrainian Regional Center for Marine Ecology, Head of the NGO Center for Democratic Development of the Sea "Synergy", added that there were examples of the implementation of circular economy in Odesa. "For example, the production of plastic paving slabs, which have withstood various tests very well. And that's why such projects will not only raise environmental awareness, but will also allow you to earn money," – Kotelnikova added.
Read more: https://mediacenter.org.ua/news