Back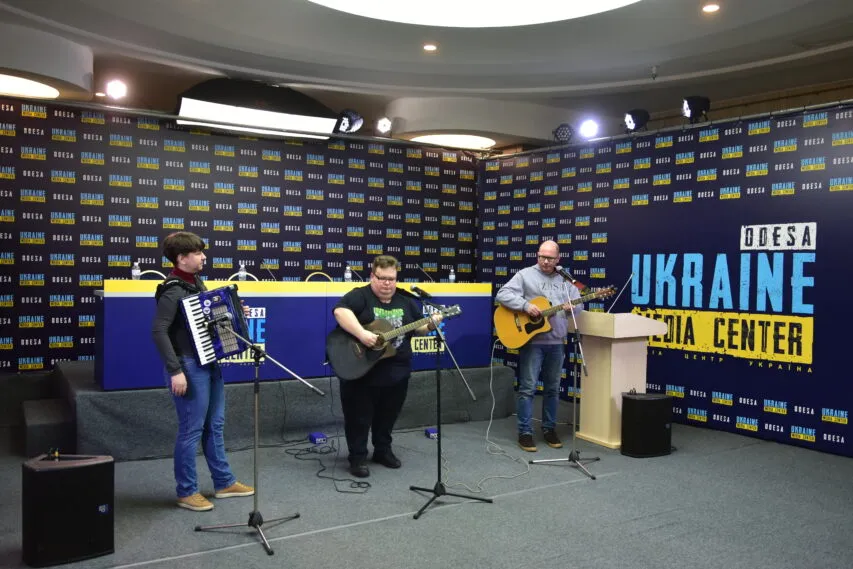 Photo by Media Center Ukraine – Odesa: Members of the band "Pozhezhny Kran" (Fire Hydrant) Nataliya Steblina; Rostyslav Baklazhenko; Dmytro Oleshko
February 23, 2023, 13:52
Odesa band "Pozezniy kran"(Fire hydrant) on the eve of the anniversary of a full-scale invasion will hold a charity concert – the donations will go to needs the Armed Forces
The concert is called "Lyuity rik" (February/Fury year paranonasia in Ukraine "February" and "fury" sound similar), the musicians will perform old and new songs written after a full-scale invasion. Dmytro Oleshko told this at a briefing at the Media Center Ukraine – Odesa.
According to Dmytro Oleshko, the band was founded in the 2000s, but in fact ceased to exist after 2014.
"The reconstruction was the full -scale invasion, and several of our new songs were written precisely thanks to the events that took place after the russian invasion. These are the songs "Chornobayevsky blues" about one of the most famous operations of our soldiers, on the "Odesa Ride", when we were waiting for the enemy landing and others", – the band soloist said.
According to Dmytro Oleshko, the concert will be held on February 23, at 07-00 PM at More Music Club, located on Pushkinskaya Street, 75.
"So come and help. This is the most important thing today – to stay together, not weighing on fatigue. And to help the soldiers. If you cannot come to the concert live, then there will be a live translation, and everyone will be able to join donations", – the musician said.
Read more: https://mediacenter.org.ua/news