Back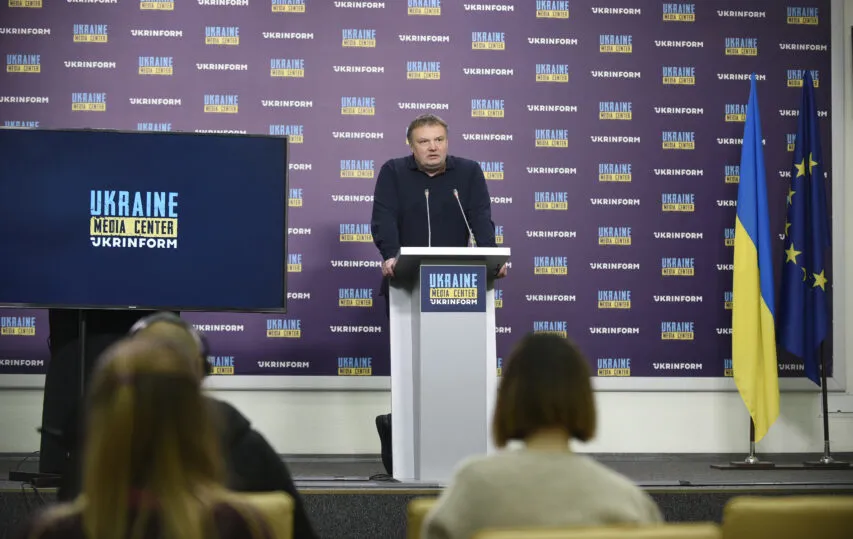 Vadym Denysenko, Executive Director of the Ukrainian Institute for the Future, Media Center Ukraine
November 22, 2022, 15:57
Now the Main Goal of the Russian Federation Is to Start Negotiations in Order to Get a Break and Try to Split the Collective West — Vadym Denysenko
As of now, the main goal of russians is to start the negotiation process. However, they do not want to end the war, but want to get a break and try to affect the Western countries' support to Ukraine. Vadym Denysenko, Executive Director of the Ukrainian Institute for the Future, made this statement during the briefing in Media Center Ukraine.
"The great goal of russians – the destruction of Ukraine – has not gone away, but, based on reality, as of now their main goal is to start the negotiation process. Not to end the war, but to suspend it, to get a break and, just as importantly, to try to split the collective West into small things. That is, the tactics of small victories are what they know how to do, and for this purpose, they need the negotiations," the expert said.
Vadym Denysenko believes that russia will make certain economic proposals to Ukraine, such as a grain agreement, in exchange for certain conditions. This is one of the strategies. The second one is the mobilized personnel.
"They believe that by throwing 300,000 mobilized soldiers to the front in winter, when it freezes and equipment will be able to move, they get the opportunity to break the situation on certain parts of the front. I very much doubt that they now have power, despite the mobilized military, to be able to conduct combat operations again along the entire front line, as it was on February 24," Vadym Denysenko explained.
The expert noted that despite the russian federation's attempts to "rock" the support of the Western countries, the collective West unanimously remains on Ukraine's side.
"The russians very strongly rocked two stories – these are the elections in Italy and the elections in the United States. We understand that despite the fact that the Government in Italy has changed, and the Congress has received a Republican majority, so far there are no changes in the attitude towards Ukraine and in bipartisan support on the part of the United States," Vadym Denysenko added.
Read more: https://mediacenter.org.ua/news