Back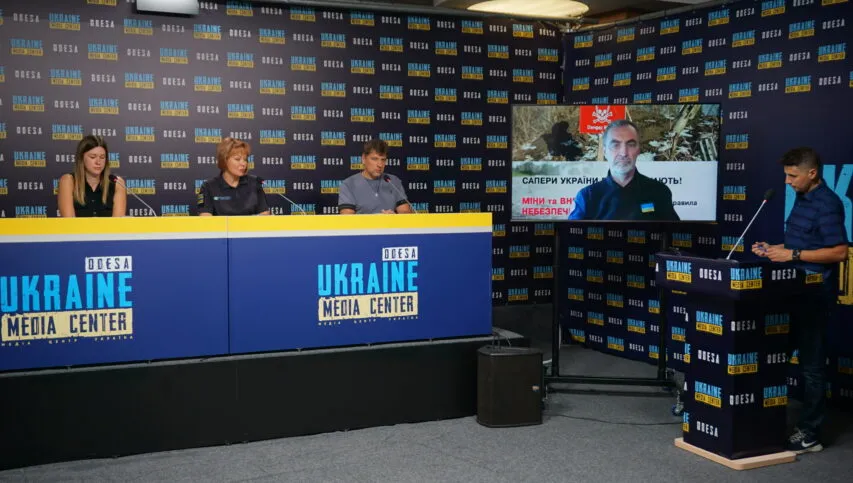 Фото Медіацентр Україна – Одеса: Ілона Ремигайло, керівник готелю Palace Del Mar; Наталя Гуменюк, начальниця об'єднаного координаційного пресцентру сил оборони Півдня України; Владислав Балінський, еколог, голова громадської організації "Зелений лист"; Сергій Чуткий, керівник напряму з мінної небезпеки ГО "Асоціація саперів України"
August 10, 2023, 15:59
No inspection will give 100% guarantee of mine safety of beaches – NGO "Ukrainian Deminers Association"
People should be informed about this on a regular basis. This was stated by Serhiy Chutkyi, Association's head of mine risk management at the Media Center Ukraine – Odesa, dedicated to the possibility of opening some beaches in the region for recreation.
He noted that according to the order of the ministry of internal affairs on the safety of life on water bodies, before opening beaches, each beach must have a passport of the water area, an inspection report. And an act of removing dangerous objects.
"Have these beaches been inspected? Even if so, this inspection will not give 100% safety guarantees. Even if the shore is mined, small mines may remain. In addition, the sea is constantly moving. Also, the Black Sea does not always have good visibility for a full-fledged check of the bottom," – the expert noted.
In addition, some mines have a self-destruct mechanism, and they can explode even without contact. The expert also emphasized that safety equipment, such as nets on the traverses, are not standardized in any way.
"No inspection will give a 100% guarantee of safety. But to at least protect yourself, you can only swim on beaches authorized by the authorities," – the expert emphasized.
Photo by Media Center Ukraine – Odesa: Ilona Remyhaylo, manager of the Palace Del Mar Hotel; Natalia Humeniuk, head of the joint coordination press center of the defense forces of South of Ukraine; Vladyslav Balinsky, ecologist, head of the NGO "Zeleniy list" (Green Leaf); Serhiy Chutkyi, head of mine risk management at the NGO "Ukrainian deminers Assocaciation"
Read more: https://mediacenter.org.ua/news