Back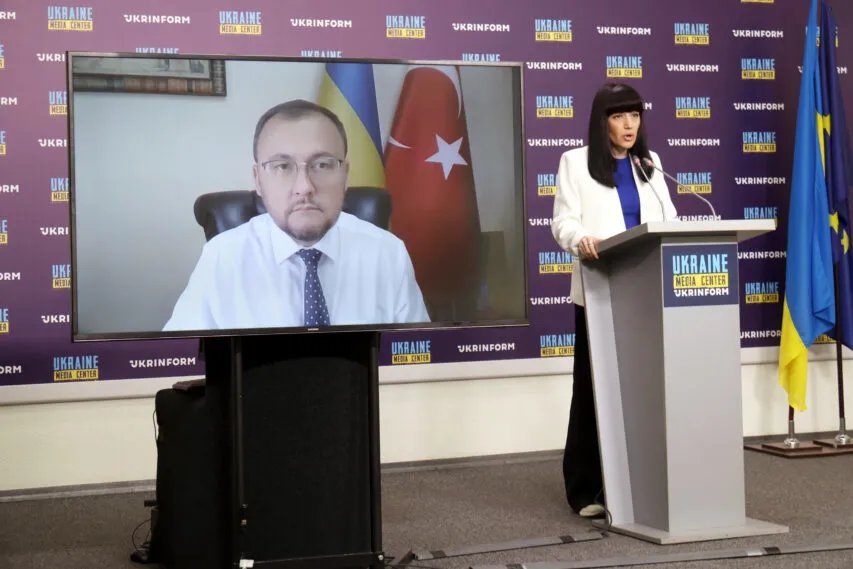 September 7, 2023, 15:08
Neither Ukraine nor the international community should give in to Russian blackmail: Vasyl Bodnar on the results of the Putin and Erdoğan meet
As of today, we have stipulated with the Turkish side Russia's position, which was announced after the visit, seeking to meet the so-called demands to restore the SWIFT link for Russian banks and to resume insurance services for ships sailing to Russian ports. In fact, this is a particular attempt to use the Turkish side to continue blackmailing Ukraine and its international partners. These are the so-called desires of the Russian side, which are actually aimed at replacing Ukrainian grain on world markets and creating conditions for normal interaction, as it was in the pre-war period as if Russia had not started this war.
Vasyl Bodnar, Ukraine's Ambassador Extraordinary and Plenipotentiary to the Republic of Türkiye, made the relevant statement during a discussion at the Media Center Ukraine Ukrinform on the results of the meeting between Türkiye's President Erdoğan and the president of the aggressor country, Russia.
"We must clearly understand, and we are proving this to our Turkish partners, that we are ready to restore the grain initiative, but neither Ukraine nor the international community should give in to Russia's blackmail. And we must not agree to those proposals that actually eliminate of certain punishment, and lift sanctions which are a punishment for the Russian aggressive war against Ukraine," he emphasized.
The ambassador noted that the list of issues discussed during the visit was not limited to those emphasized topics. According to Vasyl Bodnar, in fact, the critical basis of all negotiations was bilateral issues and topics related to the economy, business, energy, tourism, and regional problems faced by Türkiye and Russia. And in this case, he emphasized, the issue of the grain deal was one of the components of this dialogue, but there was no breakthrough.
"So far, there has been no breakthrough. To be honest, I did not expect anything so serious so far since the Turkish side is well aware of Ukraine's position. And we had very fruitful negotiations with the Türkiye representatives before Foreign Minister Fidan and President Erdoğan's trip to Russia. Our clear position was communicated to the Turkish side, discussed in detail, and in fact, as Minister Kuleba said, the shadow of Ukraine was present at the talks," Vasyl Bodnar said.
Read more: https://mediacenter.org.ua/news