Back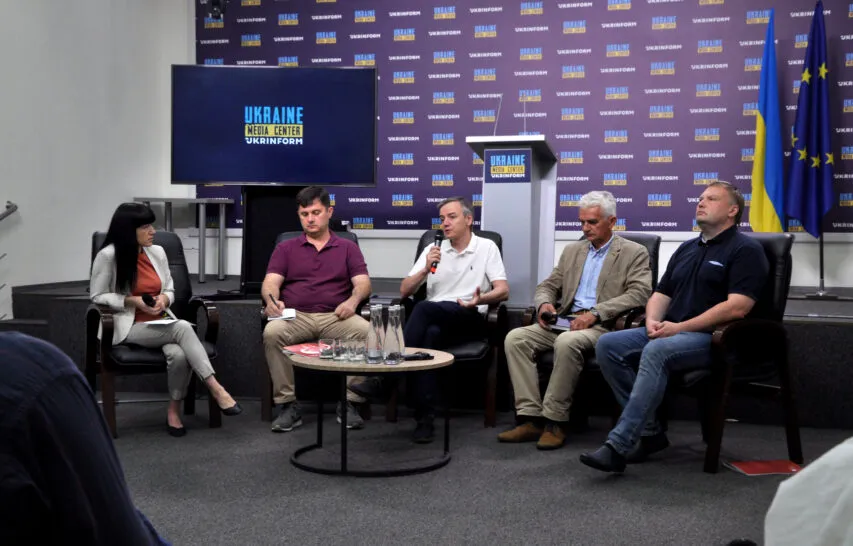 July 1, 2022, 13:36
NATO Summit Results – Ukrainian Experts Presented Key Takeaways of the Meeting
An expert meeting with journalists to discuss the NATO Summit results has taken place in Media Center Ukraine — Ukrinform today, on July 1, 2022.
Vadym Denysenko, Executive Director of the Ukrainian Institute for the Future; Alexander Khara, Foreign Affairs and Security Policy Expert at Centre for Defence Strategies, Diplomat, Advisor to the Defense Minister of Ukraine (in 2020); Oleksiy Pavliuchyk, Security Planning Expert at Centre for Defence Strategies met with the journalists.
Oleksiy Pavliuchyk emphasized that this week's NATO Summit is a historical event. Therefore, it is of major significance for Ukraine, "As far as russia and its status are concerned, everything has been discussed. The Summit results provide a ground for all NATO member states to bring their strategic planning document into a proper form. Today, the Alliance is at the stage of strengthening the containment of the aggressor. It increases forces at its Eastern borders and elsewhere in the world, where russia can act aggressively," he said.
Oleksandr Khara indicated he was certain that russia and its regime lost in strategic terms. NATO has a goal.
"Ukraine is lost for russia for good; the kremlin lost the Arctic; the Baltic Sea is turning into a NATO lake; countries on the eastern flank changed their status. The Alliance is gaining weight and will play an even more important role – I refer to China now," Oleksandr Khara highlighted.
Oleksiy Melnyk explained that it was important that a prolonged preparation period preceded the development of the Strategic Concept document. Ukrainian experts also joined the process of its development. It is important to what extent it will be taken into account in the national documents.
Vadym Denysenko said that the collective policy of the West is now based on the realization that russia is the foe. It opens great prospects for Ukraine. It will speed up addressing the most important issues, "Most Western politicians realized what russia brings in its wake."
A NATO Summit came to an end in Madrid yesterday. The approval of the Alliance's new Strategic Concept, a sort of constitution that describes its goals, mission, and raison d'etre, became the most important result of the Summit. The new version of the Strategy turns NATO toward reality; Jens Stoltenberg called it "NATO's program for the future in a more dangerous and competitive world."
Read more: https://mediacenter.org.ua/news