Back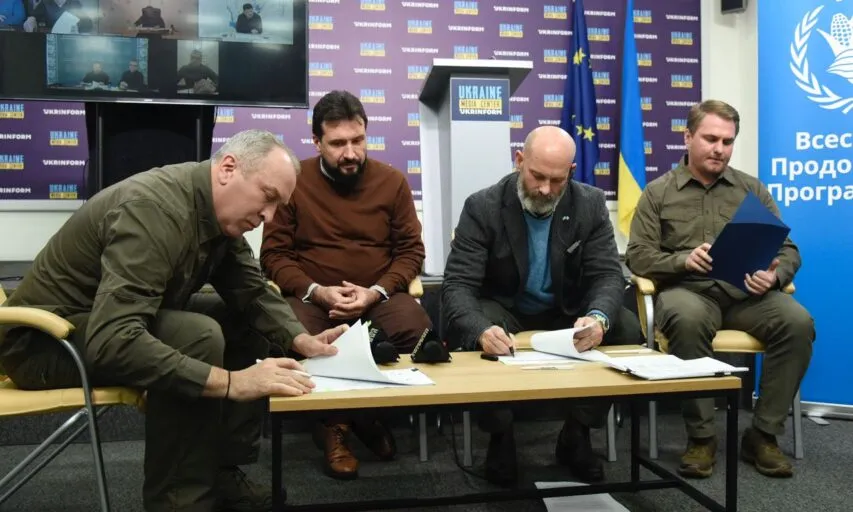 November 16, 2023, 15:22
National School Feeding Program expansion: 11 Heads of Military Oblast Administrations of Ukraine signed agreements with the UN World Food Program
The United Nations World Food Program in Ukraine has expanded the school meals program to reach 11 regions of the country. Thus, WFP will provide 30% of daily meals for more than 60,000 Ukrainian school-age children.
The program implementation agreements were signed by the heads of 11 Military Oblast Administrations of Ukraine during a briefing at the Media Center Ukraine – Ukrinform.
Matthew Hollingworth, Director of the UN World Food Program in Ukraine, expressed hope that this is only the beginning and that the program will be expanded in the future to help parents, students, and schools.
"We understand that the whole system has been devastated by the full-scale invasion, with so many families displaced, so many people lost their homes and assets, and become unemployed. At some point, I believe, peace will return within the borders of Ukraine, and we are doing everything in our power for the good of children, who will change the country for the better. We are here now to improve school nutrition so that children can realize their full potential. We are signing this agreement to expand support to Ukraine, to support local authorities to 11 Oblasts of Ukraine in a way that will provide hot lunches to more than 60,000 children across 11 regions. This is only the first step, the beginning of a project to subsidize hot meals in schools," he emphasized.
In turn, Andriy Stashkiv, Deputy Minister of Education and Science of Ukraine noted that the signing of agreements with WFP in Ukraine is the next logical step of the school meals programs within food systems reform, which started back in 2020 but was not implemented properly first due to COVID's impact and then due to Russia's full-blown invasion.
"Children should not wait until the very end of the war, and Ukraine should keep the reform up and running. And that's a continuation of the school food system reform strategy that was recently adopted by the government, which was presented by the Prime Minister, the First Lady. The stage and direction of supporting the capacity of local authorities is very important because it depends on how well the school meals will be organized. Therefore, I believe that this is the first step towards developing support for local governments, and the first 11 Oblasts will be a good starting point and an example of how to develop and support the school feeding program agenda," he emphasized.
Last academic year, the UN World Food Program funded 50% of hot meals for children in 58 primary schools in Kyiv Oblast for four months.
Read more: https://mediacenter.org.ua/news