Back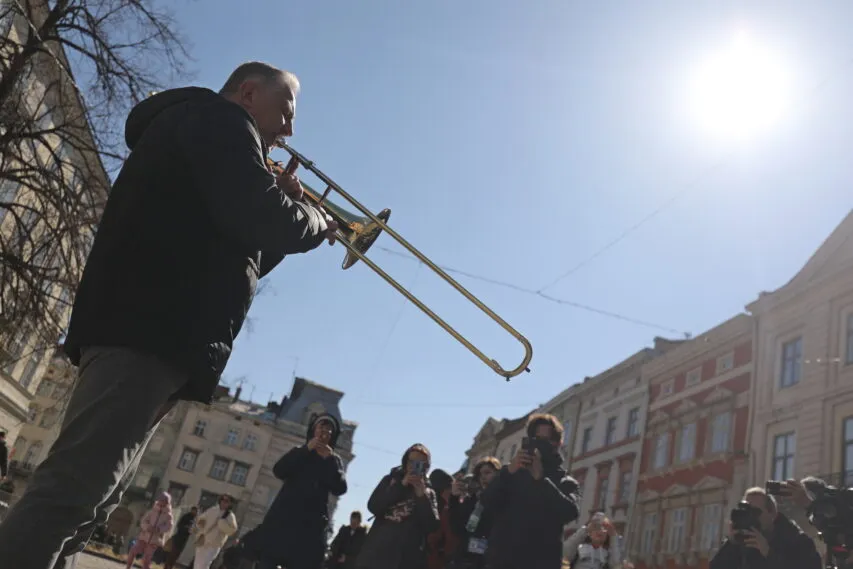 Photo: Roman Baluk
March 19, 2022, 14:22
Musicians of the Luhansk Philharmonic, who came to Lviv from the occupied territory, are preparing for concerts
Twelve musicians of the Luhansk Philharmonic Society evacuated from the occupied territory to Lviv and are currently rehearsing at the Lviv House of Chamber and Organ Music. Together with their Lviv colleagues, they will soon try to organize a concert.
"We are from Luhansk and we were the first to feel the invasion of the "russian world". Back in 2014, we were forced to leave our hometown for the territory controlled by Ukraine. In 2015, we managed to resume the work of the Philharmonic in Severodonetsk. In 2022, we felt the "love" of our neighbor again, so now we are in Lviv. Unfortunately, not everyone was able to move here and some of our musicians are currently in different regions of Ukraine. There are now 12 out of 60 musicians in Lviv and we join various volunteer initiatives here all the time.
I am very grateful to Lviv musicians for their support during this difficult time. They helped us with both the accommodation and the rehearsal base. Now we are resuming our rehearsals in the Lviv Organ Hall: we have organized small ensembles and started to play musical instruments again. We are uniting with our Lviv colleagues and preparing to perform for the audience." – Ihor Shapovalov, Director of Luhansk Philharmonic, said.
"Ihor called me on the first day of war and we immediately responded ready to help. We try to support our colleagues with everything we can, because we understand the need to support Ukrainian culture. We know that the russian cultural front around the world is very aggressive towards Ukraine. No matter how difficult the times are, we must always work and spread our culture. Now the musicians of the Luhansk Philharmonic are rehearsing and preparing to perform on stage." – Ivan Ostapovych, Head of the Office for Cultural Affairs of the City of Lviv, indicated.