Back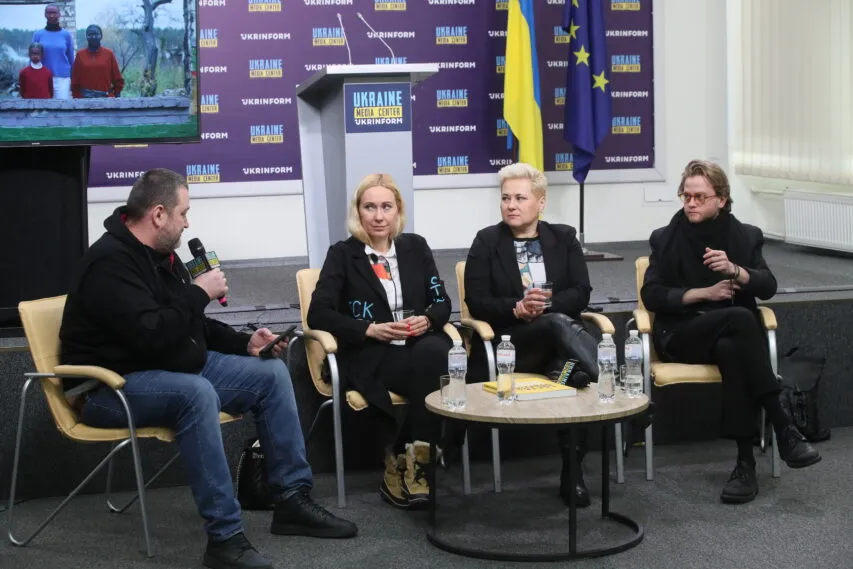 Daria Onyshchenko, Ukrainian-German Filmmaker (Eastalgia, The Forgotten), Member of Ukrainian Film Academy, Director and Co-Writer of Malevich ; Vitaliy Azhnov, Theater (Ivan Franko Drama Theater) and Movie Actor (December Tale or S.Mykolay's Adventures, Hutsulka Ksenya, There Will Be People), Lead Actor playing artist Kazimir Malevich in the movie "Malevich"; Tetyana Filevska, Creative Producer of the movie "Malevich," Art Manager, Curator, expert on Kazimir Malevich's works, Writer of books "Kazimir Malevich. Kyiv Period 1928-1930" and "Kazimir Malevich. Kyiv Aspect"
February 6, 2023, 16:15
Most people abroad perceive Malevich as russian artist, but huge part of his identity is connected to Ukraine — "Malevich" production team
What lies behind the famous 1915 painting "Black Square" painted by extravagant artist Kazimir Malevich? For his rivals it is a challenge, for the soviet authorities it is a secret code, for women it is a love letter, and for the Ukrainian people it is a tragic prediction of the future… The Director and Creative Producer of "Malevich" movie, which is expected to premier in summer or fall 2023, spoke about the film at Media Center Ukraine — Ukrinform.
"We had had the idea for the movie before the full-scale invasion began. Even then, it was important for us to make a feature film that would introduce the world audience to the Ukrainian Malevich. After February 24, the movie became relevant in a new way. I looked at this story from a different angle. The historical parallels that existed at the time when Malevich lived and what is happening now became obvious to me," — Daria Onyshchenko, film's Director and Co-Writer said.
"We presented clips from our film in France and in Italy. I was very interested to see people's reactions. (I) immediately felt that people were surprised. Most people perceive Malevich as only a russian artist, some have heard that he is from a Polish family, but to this date almost no one knows about his connection to Ukraine," — Daria added.
"After February 24, we all started talking more about decolonization, separating ourselves from the empire in every sense, and above all, in a cultural one. We are all aware that this war is a war against our culture and identity. We have to learn our lesson very well — to understand the essence of Ukrainian culture, which they tried to kill, destroy, cut off from us, and to take back what belongs to us. A huge part of Malevich's identity is connected to Ukraine, and this must be explained and communicated. Now it's easier to do, our voice is better heard abroad, we have publications, research, we work on it through cinema, literature," — Tetyana Filevska, Creative Producer of the movie said.
Read more: https://mediacenter.org.ua/news