Back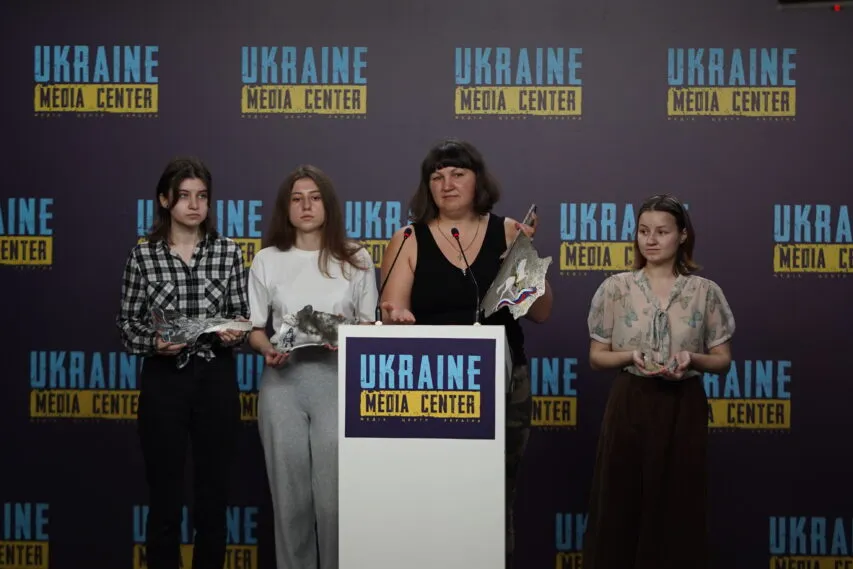 June 1, 2022, 13:03
Missiles Delivering Death Became Art—Missile Fragments Painted by Artists Are Raffled off in Lviv to Help Ukraine's Armed Forces
Missile fragments that students of Lviv Academy of Arts transformed into works of art will be raffled off on June 1 at 8:30 PM. The authors want to use this idea to raise funds for Ukraine's Armed Forces. The volunteer Tetiana Turchyna presented this idea during her briefing at Media Center Ukraine. The artists painted fragments of the missiles downed by the air defense units above Lviv. The Army supplied the material.
"I had no idea where to get the fragments from, but the solution came as if by itself. My military friends came to visit me and told me they had missile fragments in the car. And asked if I needed them," Tetiana Turchyna said.
Artists depicted Saint George fighting the Serpent styled as a Ukrainian soldier on one of the fragments. He pierces a three-colored serpent with a trident.
"I painted Saint George because Lviv's heavenly protector can also look like this. I also painted ears of grain that will become ripe and bear a new life. The way we gave a new life to those missiles. We will raise money with them to help Ukraine's Armed Forces," Ruslana Hahan, a student of Lviv National Academy of Arts, says.
The painted fragments will be raffled off on the Facebook page of the volunteer Tetiana Turchyna. Everyone who donates UAH 100 can take part. The prize winner will be chosen randomly. The prize winner will choose the painted fragment they like most. A separate prize will be offered to the most generous donor.
"The realization that it is a fragment of the enemy's missile that targeted our country hit me hard. It was emotionally difficult to paint on it. But we decided that, because these missiles had been made to take lives, we would paint them to save lives. So I painted a Ukrainian fighter airplane to glorify our soldiers on my fragment," Olha Lementarchuk, a student of Lviv National Academy of Arts, explained.
"I painted the child who walked to the border on his own after the start of the full-scale invasion. That photo impressed the whole world by showing the pain suffered by the Ukrainian children and people. I want the children in Ukraine never to know what a war is. And I want the victory to come soon," Angelina Andrusyshyn, a Lviv National Academy of Arts student, summarized.
Read more: https://mediacenter.org.ua/news