Back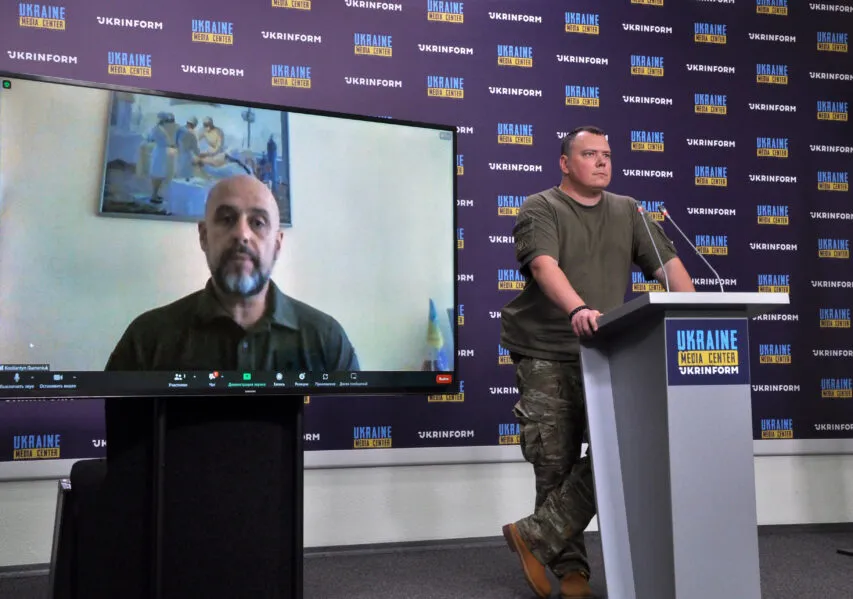 Костянтин Гуменюк, Олексій Гавриш, Медіацентр Україна-Укрінформ, 15 червня
June 15, 2022, 12:39
Military doctors use modern surgical techniques at frontlines — Chief Surgeon of Ukraine's Armed Forces
The surgeons currently working at the frontlines had no experience dealing with combat injuries inflicted by modern weapons. Even countries of the world that are currently at war do not have such experience. However, Ukrainian military surgeons are using techniques that save the lives of soldiers. Thus, in one of the field hospitals, military surgeons have recently performed an operation using the latest techniques of laparoscopy and colposcopy.
Kostiantyn Humeniuk, Chief Surgeon of Ukraine's Armed Forces made this statement at Media Center Ukraine — Ukrinform.
"The cases of unique surgeries that took place in the combat zone are possible because our doctors have begun to use modern invasive procedures. Therefore, we have better results in diagnosis and treatment. A serviceman was admitted to one of the hospitals with a gunshot wound, a shrapnel wound to the shoulder, and a kidney injury that was completely destroyed. Therefore, I decided to use a modern technique of laparoscopy. We performed this surgery. It was because of the professionalism of the whole team that we managed to accomplish everything. In a day the patient was able to stand up without assistance. And instead of an incision, he had only a few punctures on his abdomen," — the surgeon noted.
The next day, as it happens in medicine, there was a similar case. The same doctors performed a similar surgery.
"We got good results. Both patients continue treatment. And we have seen the high efficiency of these modern minimally invasive procedures — laparoscopy and colposcopy," — the combat surgeon noted.
He said that all combat instructors have received appropriate training. They follow all the standards of the "golden hour" to timely and correctly transport the wounded from the battlefield to the field hospital, but the nature of modern combat injuries is extremely complex
Read more: https://mediacenter.org.ua/news