Back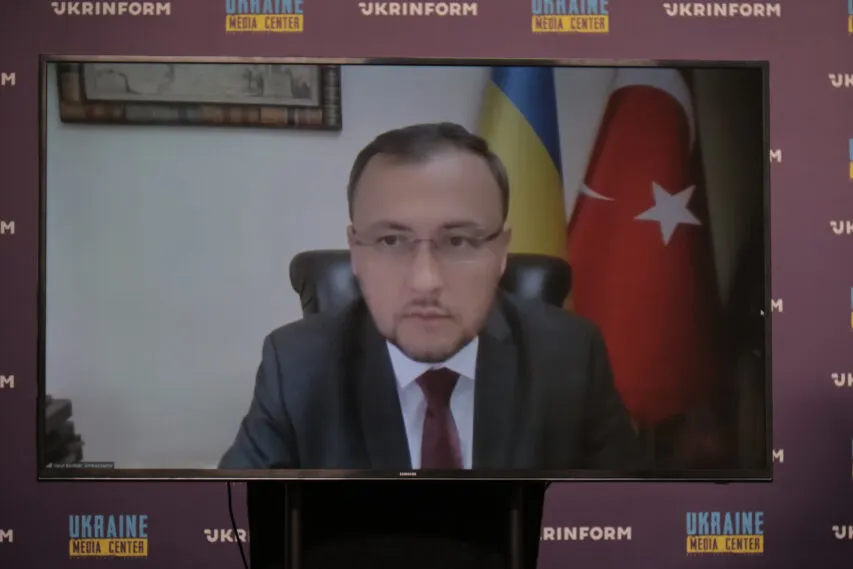 Vasyl Bodnar, Ukraine's Ambassador Extraordinary and Plenipotentiary to Türkiye, Media Center Ukraine – Ukrinform
March 30, 2023, 15:29
We have a clear statement of the Türkiye side on the 120-day extension of Grain Deal – Ukraine's Ambassador Extraordinary and Plenipotentiary to Türkiye
The grain deal is quite crucial for the Ukrainian economy. Its extension is a fundamental interest for the Ukrainian state.
It was emphasized by Vasyl Bodnar, Ukraine's Ambassador Extraordinary and Plenipotentiary to Türkiye during a briefing at Media Center Ukraine – Ukrinform.
He recalled that last week Black Sea Grain Initiative was extended for another term.
"We believe that the agreement has been extended for 120 days, as stipulated by the document signed on July 22 last year," the ambassador said.
However, he noted that there are speculations on the part of the Russian side regarding the terms of the agreement's extension.
"There is misleading information on the part of the Russian side that it wants to reconsider and seeks to extend the UN-brokered grain corridor agreement for only 60 days. These are clear aggressor country attempts to manipulate both public opinion and mediators," the diplomat added.
In addition, Vasyl Bodnar emphasized the unanimous position of the UN Secretary-General and the Türkiye side on extending the grain deal.
"The UN Secretary-General's statement clearly points that it was set to last 120 days. We also have a clear statement from the Türkiye side specifying the deal to be extended for 120 days. We will see how the situation will unfold in 60 days. As we need to take into account that during this period, presidential elections are taking place in Türkiye, and all attention within this country will be focused on the ongoing election process."
Read more: https://mediacenter.org.ua/news