Back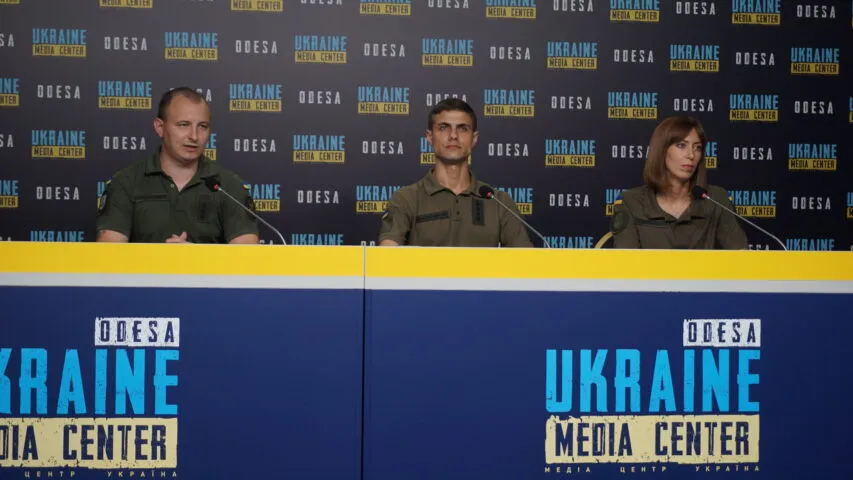 Oleksandr Konovalenko, acting head of the personnel department of the 11th Hrushevsky Brigade of the National Guard of Ukraine, Yevhen Shmunder, head of the mobilisation service of the 11th Hrushevsky Brigade of the National Guard of Ukraine, Olha Odintsova, head of the psychological service of the 11th Hrushevsky Brigade of the National Guard of Ukraine
August 31, 2023, 16:08
Many young people aged 20-27 who had no military experience joined the Offensive Guard volunterely NGU
Representatives of the 11th Mykhailo Hrushevsky Brigade of the National Guard of Ukraine told a briefing at the Media Centre Ukraine – Odesa about the recruitment process, as well as support and social benefits for servicemen.
The brigade is currently performing various types of tasks in the Ochakiv, Kherson and Zaporizhzhia areas. According to Oleksandr Konovalenko, acting head of the brigade's human resources department, there is a need for specialists in various fields.
"It is not necessary to have military training to join the NGU. For example, the Offensive Guard has attracted a large number of young people aged 20 to 27 who had no military experience. Currently, there is a need for all kinds of specialists, even psychologists."
The head of the psychological service, Olga Odintsova, added that one can join the brigade voluntarily or through mobilisation. After demobilisation is announced, if a person plans to connect their life with the military, they can sign a contract for three or five years.
For the period of martial law, servicemen are paid an additional remuneration of UAH 30,000, and for those who take direct part in hostilities or ensure the implementation of national security and defence measures while being directly in the areas during the period of implementation of these measures, the amount of this additional remuneration is increased to UAH 100,000.
In addition, the state provides servicemen with residential premises, and servicemen with 20 years of military service and more, and their family members, are provided with residential premises for permanent residence.
Read more: https://mediacenter.org.ua/news