Back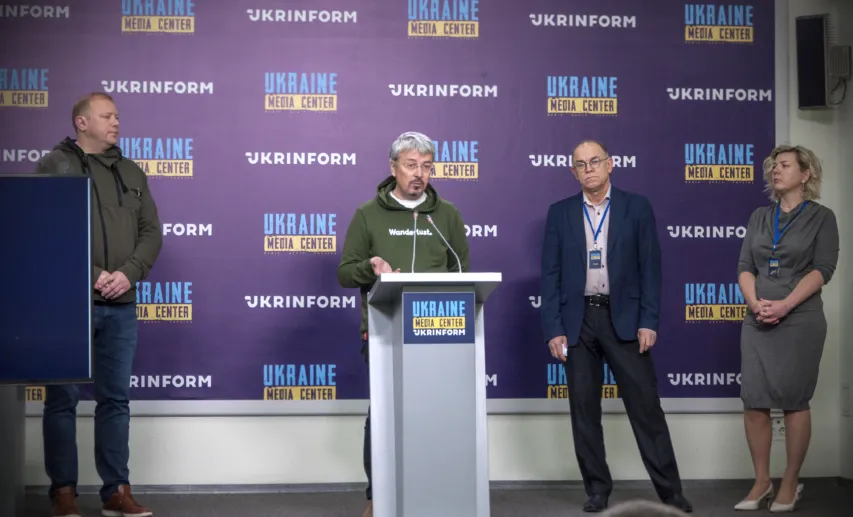 April 30, 2022, 12:17
MAIN MEDIA PLATFORM: UKRINFORM AND UKRAINE MEDIA CENTER LAUNCH JOINT PRESS CENTER IN KYIV
Combining the state resources and successful civic initiatives to achieve victory in the information war is the goal of a joint project by Ukrinform, national news agency, and «Ukraine» Media Center. The joint platform has started operation in Kyiv.
According to Ukrainian Culture and Information Policy Minister Oleksandr Tkachenko, the launch of this project once again underlines the Ukrainians' phenomenal ability to self-organize. «Ukraine is also fighting to win on the information front. We know how to win on this front, and we'll combine the best resources and experts to achieve this (goal),» – the minister said.
In addition to Ukrinform capabilities, the operation of the newly launched platform will incorporate the experience of «Ukraine» Media Center platforms that were created to work with foreign journalists in Kyiv and Lviv after the invasion had begun. Kyiv location will fullfill the following important functions:
holding public and non-public events for media workers;
assisting international media with covering the war;
assisting Ukraine with shaping an information policy that will lead to victory.
«Combination of our colleagues' time-tested expert knowledge and our capabilities must become the synergy that will allow discussing the launch of the main information platform in the country,» – Oleksandr Kharchenko, Director General of the Ukrainian National News Agency Ukrinform said.
«Ukraine» Media Center is an independent initiative by communication experts that is supported by the central authorities, state agencies, local authorities in Lviv and concerned businesses. The main goal of the Media Center operation is to help foreign journalists.
«The major miscalculation of the russian propaganda is that they have no idea what Ukraine really is and what Ukrainians are like. Our ability to unite behind the values, unite behind common goals is one of the things that the occupiers will never comprehend. That's why we will win,» – Andrii Shevchenko, «Ukraine» Media Center Coordinator in Lviv noted.
«Information became a weapon. We learnt to win with this weapon just as our soldiers win on the battlefield,» – Alina Frolova, representative of «Ukraine» Media Center added.
The Media Center works at 8/16, Bohdana Khmelnytskoho Street, Kyiv.
Read more: https://mediacenter.org.ua/news