Back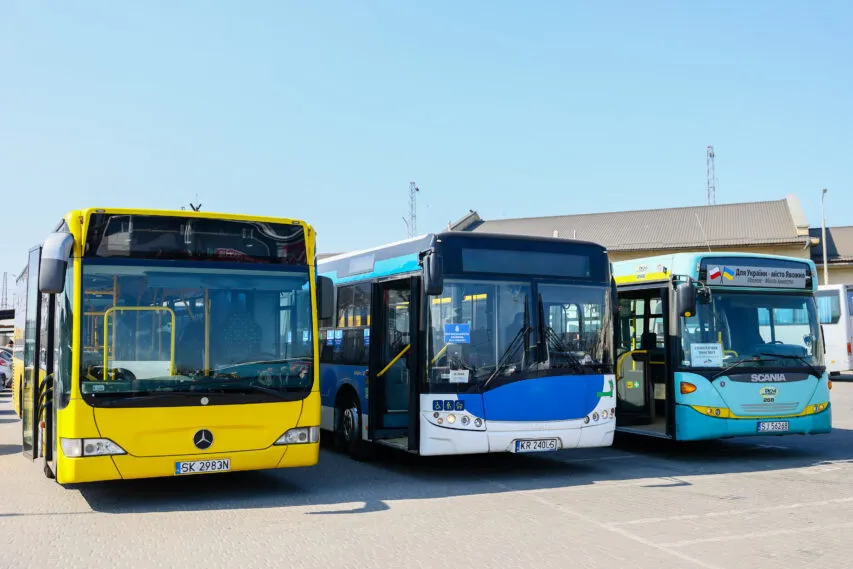 March 25, 2022, 18:19
Lviv received 20 buses and humanitarian aid from Polish cities
Friendly Polish sister cities support Lviv. During this week, Lviv received 20 large low-floor buses and humanitarian aid from Polish cities. Lviv expects to get 6 more buses by the end of the month. Lviv City Hall expresses its gratitude to Poland for its support and crucial assistance during the war.
«The day before, Lviv received 7 buses from Poland: two Scania buses from Jaworzno and 5 Solaris buses from Krakow. Yesterday we received 13 buses from Katowice, Sosnowiec, Tychów and Świerklaniec. These are 2009-2010 large low-floor buses. All buses arrived with humanitarian aid from these cities. Our specialists are currently checking their technical condition and we will determine where to use them. It is clear that these buses will run both on routes around the city and to transport forcibly displaced persons to the border with Poland.
We thank the Polish cities for such important help to our city. After all, given the large number of people currently arriving to Lviv, the need for transport will only increase,» Oleg Zabarylo, Director of the Department of Urban Mobility and Infrastructure of the Lviv City Council said.
Lviv also expects to receive two buses from Gdansk and two buses from Gdynia on Saturday, one bus from Płock on March 28, and another bus from Białystok on March 31. According to Orest Oleskiv, Head of the Lviv Transport Office, since the beginning of the full-scale war in Ukraine and the large number of forcibly displaced Ukrainians arriving to Lviv, a lot of buses operating in Lviv have been used for the needs of the Armed Forces and to transport migrants to the border with Poland. Buses run day and night. Travel for migrants is free of charge.
Follow Ukraine Media Center on social media:
Telegram: https://t.me/lvivmediacenter
Twitter: https://twitter.com/CenterUkraine
Facebook: https://www.facebook.com/UkraineMediaCenter/
YouTube: https://bit.ly/37tPlKlі