Back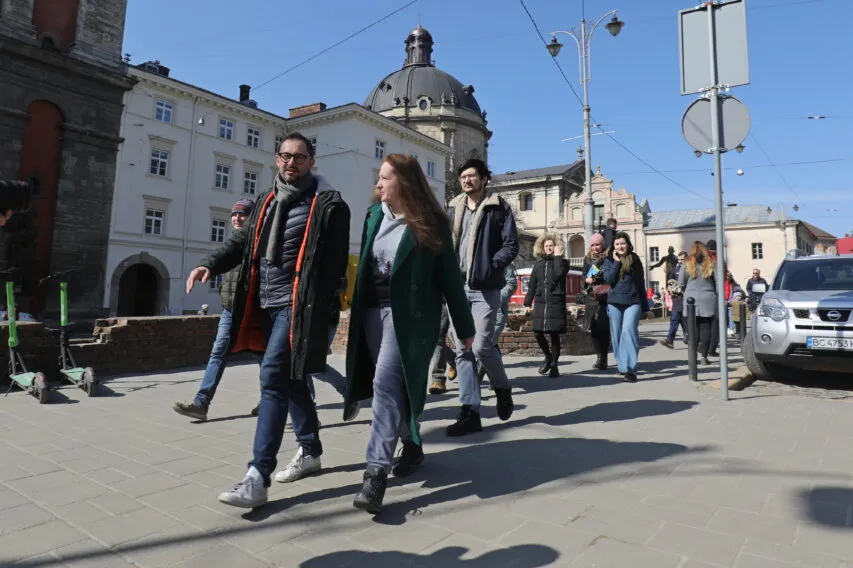 March 20, 2022, 15:37
Lviv Meets: Walking Tours Are Offered to Forcibly Displaced Ukrainians
A program of psychological support to displaced people and everyone in need of support during the war, «Lviv Meets: Art, Walks, Communication» has been launched in Lviv. Pavlo Hudimov, Art Manager, Curator of Ya Gallery, told about this during his press briefing at Ukraine Media Center. The project is co-sponsored by Lviv's Art Gallery Owners Association, Municipal Company «Bureau of Heritage», the Office for Ecology and Natural Resources of Lviv City Council.
Representatives of the city's cultural environment got together to organize free walking tours of parks and some art galleries. The walking tours were launched on March 18; since then, at least 100 people have gathered for every event, Hudimov says.
«At the moment, Lviv is a shelter city, and let us hope it stays so. We realize that many people came to our city for the first time. There was an idea to make a program for such people. Firstly, we organized a walk in Stryiskyi Park. And realized that it was working very well. While we expected 20 to 30 people, about 150 people joined the walk,» Pavlo Hudimov said.
Oleksandra Sladkova, Head of the Office for Ecology and Natural Resources, said that Lviv residents also joined the walking tours.
«Lviv residents account for up to 30 percent of the people who join the walks. We try to present the park through the lens of our personal experiences in the city rather than through the history lens. We've seen so many smiles in these three hours that we haven't seen over the last three frightening weeks.»
You can find information about the forthcoming walking tours here.
A Telegram channel for the internally displaced people https://t.me/naraziulvovi was launched today in Lviv.
You can find information about jobs, shelter, entertainment, volunteering, and discounts.
The city hotline for internally displaced people is available at +380 32 254 6079