Back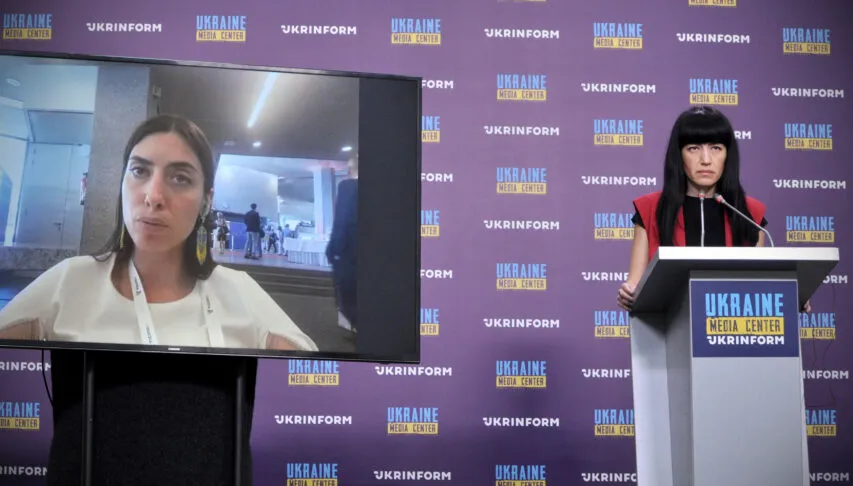 Марія Мезенцева, Медіацентр Україна - Укрінформ, 5 липня
July 5, 2022, 13:53
Lugano Declaration announced: Western partners to pay for Ukraine's recovery
On July 5, Ukrainian PM Denys Shmyhal, Swiss President Ignazio Cassis and British Ambassador to Ukraine Melinda Simmons announced the Lugano Declaration.
Maria Mezentseva, Member of the Verkhovna Rada, Head of the Permanent Delegation of the Verkhovna Rada of Ukraine to the Parliamentary Assembly of the Council of Europe reported about it directly from Switzerland during an online briefing at Media Center Ukraine — Ukrinform.
"The declaration is based on seven points. These are the principles, based on which further work will develop. Some partner countries have already decided which regions of Ukraine they would like to restore, even if these cities are still occupied. My native Kharkiv region will receive aid from the USA and Türkiye," — Maria Mezentseva said.
The recovery conference in Lugano is gradually transitioning into its economic part, which will be opened by the Prime Minister of Ukraine.
"In addition to the energy crisis and energy efficiency, the agenda in Lugano also includes the issue of restoring a new energy-efficient infrastructure. The issue of localization of foreign plants in the West of Ukraine was also discussed, so that the restoration of our state could take place with the involvement of the latest technologies," — the People's Deputy said.
The funds of foreign partners entering the Ukrainian economy are not reverse financing, they will not have to be returned.
"In bilateral conversations, there are discussions on the topics of providing credit to Ukrainian businesses. The Swiss bank already cooperates with Impact NGO and pays wages to those enterprises that resume work in Ukraine,"— she emphasized.
As reported, an international conference on the restoration of Ukraine is held in the Swiss city of Lugano on July 4-5 with the participation of Ukrainian and international politicians, heads of the EU and international organizations, international financial structures, etc. This conference was planned even before russia's full-scale invasion and it was supposed to review the progress of reforms in Ukraine. Participants will now focus on post-war reconstruction plans. The conference, as the organizers hope, should become an impetus for the creation of an international platform for the reconstruction of Ukraine.
Read more: https://mediacenter.org.ua/news