Back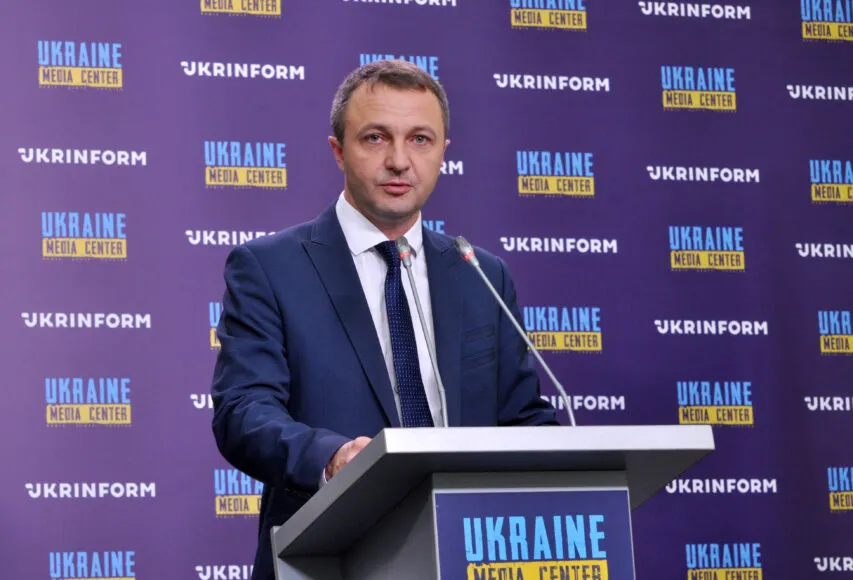 Тарас Кремінь, Уповноважений із захисту державної мови, Медіацентр Україна - Укрінформ, 7 липня
July 7, 2022, 13:32
"Local Governments Must Open Free Ukrainian Courses," State Language Protection Commissioner
Today, on July 7, the State Service of Education Quality of Ukraine presented its survey of the use of the Ukrainian language by those participating in the education process in schools at Media Center Ukraine — Ukrinform.
According to Taras Kremin, the State Language Protection Commissioner, the issue of using the Ukrainian language both in the educational process and domestically remains on the agenda of local and national governments. The Commissioner's Office receives complaints from Ukrainians against violating the language legislation.
"Today, we will talk about applying Article 21 of the Language Act, which will become 3-years old on July 16, and the issues reported to us. The issues are related to the language of the educational process, the quality of teaching, the availability of handbooks and other materials," he said.
According to Taras Kremin, local governments must pay attention to opening free Ukrainian language courses, which are in short supply in Ukraine's south and the capital.
Ruslan Hurak, Head of the State Service of Education Quality of Ukraine, indicated that the Service had always been monitoring the quality of the educational process in terms of supporting and introducing Ukrainian as the official language.
The survey was carried out by distributing an online questionnaire completed by school students, parents, and teachers. The surveys covered the entire country, other than the temporarily occupied territories. Particular attention was paid to schools where IDPs study. Over 58,000 respondents took part in the survey.
"The prevailing majority of responders, 87% among teachers and 82% among parents and children, indicated that they considered Ukrainian as their mother tongue and used it in all areas of life. On the other hand, almost 20% of parents and students did not consider Ukrainian their mother tongue. Among IDPs, 19% claimed to communicate in Ukrainian, 29% in Ukrainian and russian, and 10% predominantly in russian," Ruslan Hurak said.
The survey showed that 94% of teachers taught in Ukrainian, and only 63% also spoke Ukrainian during the breaks, "We noticed multiple times that teachers often taught in Ukrainian but spoke russian during the breaks."
According to Ruslan Hurak, the educational environment is the sector that uses mainly the Ukrainian language, while the situation outside the school is somewhat different, with many students speaking russian.
A separate survey was conducted to study the perception of the content in different languages on the Internet: 59% of respondents perceive information equally well in Ukrainian and russian, 34% perceive Ukrainian better, and 6% perceive information mainly in russian.
The State Service of Education Quality of Ukraine emphasizes that the influence of the russian-speaking environment remains high because much content on the Internet is in russian.
"We need to improve the teaching of Ukrainian, introduce courses and other training opportunities. However, we can see the trend where more and more participants of the educational process tend to use mainly Ukrainian in all spheres of life," Ruslan Hurak said.
Read more: https://mediacenter.org.ua/news