Back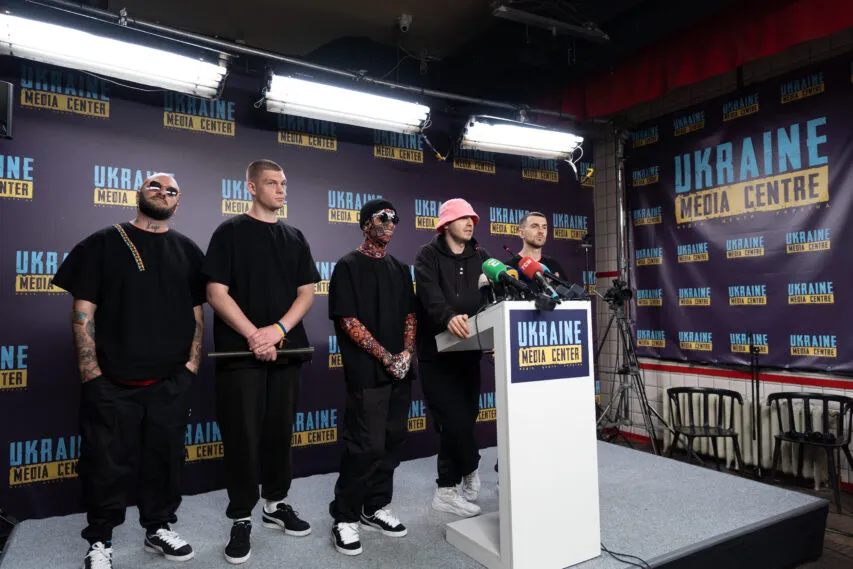 April 28, 2022, 13:45
Kalush Orchestra on preparation for Eurovision 2022: costumes and production will change, but pink bucket hat stays
Kalush Orchestra band members' stage clothes for Eurovision Song Contest 2022 as well as the stage production of the performance will be different. However, the pink bucket hat often worn by the lead singer during performances will stay. Oleh Psiuk, Kalush Orchestra band leader said at a briefing at Ukraine Media Center.
«Not to show all our cards: but the bucket hat will definitely be used, blue and yellow theme too, but with restraint. Costumes will be about 50% different,» — Oleh Psiuk explains.
The musician also noted that representing Ukraine in Eurovision is a big responsibility for the band, especially in the times of war.
«In this situation, when there's war (in Ukraine), I think the responsibility grows by several times or by order of magnitude. We feel it and we'll do everything in our power to represent our country with dignity,» — Oleh Psiuk said.
According to Oksana Skybinska, Head of Ukraine's Eurovision Delegation, two eventful weeks await Kalush Orchestra in Turin, as every delegation must take part in an official program that involves a lot of rehearsals and media meetings.
«The first rehearsal takes place on April 30, then we'll be able to see and feel the stage for the first time and talk to the press. Our second rehearsal is on May 4 followed by another press conference. That's why these two weeks involve a lot of both on- and backstage work,» — Ukraine's Delegation Head said.
According to Mykola Chernotytskyi, CEO at Public Broadcasting Company of Ukraine, Ukraine managed to acquire funding from European donors to send the band to Turin. This year the Song Contest will be broadcast on UA:Kultura (Сulture) TV channel.
«We'll ensure UA:Kultura and our digital platform will broadcast (Eurovision). As for the Grand Final, we're discussing it with other media groups, possibly a part of the Marathon (the United TV Marathon) will cover it. However, the decision hasn't been made yet,» — Mykola Chernotytskyi said.
As reported, Kalush Orchestra is participating in Eurovision Song Contest 2022 in Turin (Italy). The musicians will represent Ukraine with their song «Stefania» in the first Semi-Final.
Read more: https://mediacenter.org.ua/news