Back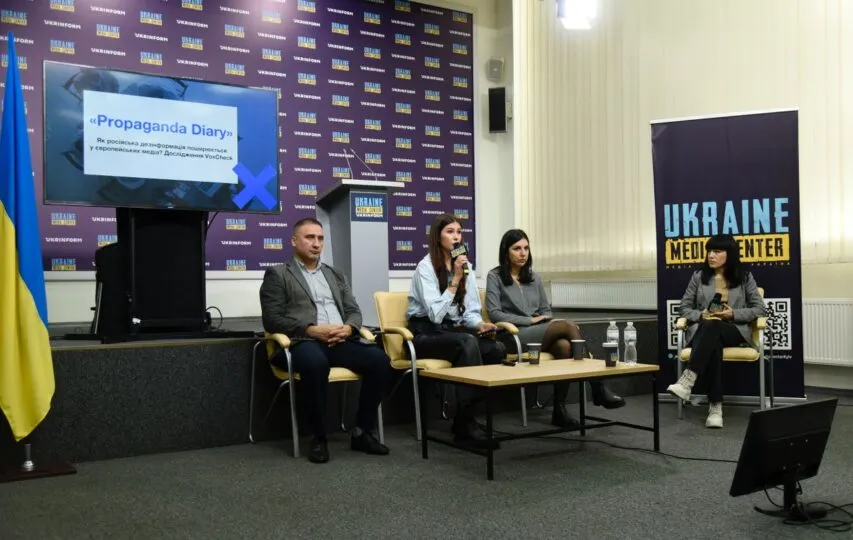 November 6, 2023, 15:10
Justification of Russia's actions, ineffective sanctions and discrediting the Ukrainian government: what propaganda narratives and fake news are Russian propaganda effort targeting European countries
From February to October 2023, the VoxCheck team brought out 8296 cases of Russian propaganda in the media across 6 European countries. In particular, the largest number of such cases was recorded in Poland – 1858, in Slovakia – 1563, in the Czech Republic – 1348, in Hungary – 1373, in Germany – 1237, and in Italy – 916.
This was reported by Myroslava Markova, VoxCheck Senior Analyst, during a discussion at the Media Center Ukraine – Ukrinform.
At the same time, she informed that currently there has been a tendency of Russia to push propaganda and fakes in European countries.
According to the analyst, Slovakia is currently a subject to Russia's information-psychological warfare campaign and various forecasts that Western pseudo-experts disseminate claiming that Russia will allegedly go on the offensive and capture the entire left bank and that Ukraine will lose Odesa or Kharkiv. In other words, according to the researcher, an atmosphere is being created that Russia is allegedly advancing more and more actively, and Ukraine is doomed.
The propaganda narrative about weapons remains a very popular one in Slovakia. It peaks at major news events, such as the ATACMS program. Also, the future deliveries are also a hot topic, asserting Ukrainians will not be able to master the F-16, etc.
Myroslava Markova notes that the number of disinformation campaign cases Russia carried out in Germany increased in late summer and early fall of this year. The main falsehoods are about the failure of the counteroffensive, that Ukraine will no longer be supported, that the Ukrainian Armed Forces have a limited time to attack and are failing, that all Western weapons have been destroyed and proved ineffective, and so on.
"By the way, Israel and Hamas have taken a lot of attention in each of these countries. And this shows us once again how Russia can use any information pretext to skillfully divert attention from its full-scale invasion of Ukraine, just so that it can divert attention to something – it will always be used," the analyst added.
At the same time, she noted that there is a very powerful lobby in Germany that Ukraine and the West are refusing to hold peace talks.
At the same time, the analyst added, Italy is very similar to Germany when it comes to conducting propaganda-filled activities. Similarly, for a very long time, all attention was focused on Israel.
But most of all, according to Myroslava Markova, the Italian media justify Russia's actions and war crimes, and often contain narratives that Russia's blatant aggression was a forced move, and that Ukraine allegedly provoked it.
At the same time, commenting on the decision of the Italian authorities, local media outlets write that they are under the influence of propaganda because they are confused and do not understand that sanctions are hitting the country.
According to the analyst, it is also noteworthy that Italy has stopped writing about Ukrainian refugees altogether.
At the same time, Myroslava Markova notes that in Hungary, cases of pro-Russia outreach on the ineffectiveness of weapons and imposing sanctions have become more frequent, in particular, because of Orban's statement that they should be canceled. Since then, this topic has been actively developing. For example, the country is actively promoting Putin's words about peace and trying to traditionally justify aggression.
In addition, the key topic in Hungary is always Ukraine's policy toward Hungarians and the alleged oppression of national minorities. There are also a lot of fakes about Western weapons.
The VoxCheck analyst noted that in the Czech Republic, there was a full-spectrum campaign to discredit the Ukrainian government or notably President Zelenskyy. But recently, it has intensified.
In addition, fact-checkers highlight several cases every week about so-called foreign mercenaries in Ukraine, the narrative that third-party troops are fighting in Ukraine and that not only the two countries of the conflict are involved.
In Poland, the analyst noted, the up-to-date theories on Israel are spreading the idea that the United States will not support Ukraine now because it is busy with Israel, and that no weapons or anything will be transferred.
They are also beginning to hammer away the subject of the cold weather and sanctions, which allegedly did not harm Russia at all, are allegedly "sideways" for the whole of Europe and Poland in particular.
There is also the issue of refugees and the idea that Poles have their own problems that need to be dealt with instead of wasting resources.
"And one of the newly created narratives, in my opinion, is the message that Ukrainian refugees do not meet the definition of the Geneva Conventions, so it is unclear what these people are doing in our country, why we spend money on them," added Myroslava Markova.
She also noted that the topic of grain was also promoted in Poland. The key message is that despite the agreements, Ukraine allegedly supplies grain not to the so-called Global South, rather than to African countries, but most of it goes to European countries or Türkiye. By doing so, Ukraine has allegedly once again shown itself to be an unreliable partner.
It is worth noting that from February to October 2023, the VoxCheck team recorded 8296 cases of Russia pushing its propaganda in the news media of 6 European countries. That is, more than 920 media publications containing Russian misinformation narratives appeared every month in Germany, Italy, the Czech Republic, Slovakia, Hungary, and Poland. For comparison, during the previous research period (from February 24, 2022, to January 2023), analysts identified 4,836 cases, which means an average of 403 propaganda cases per month.
Read more: https://mediacenter.org.ua/news