Back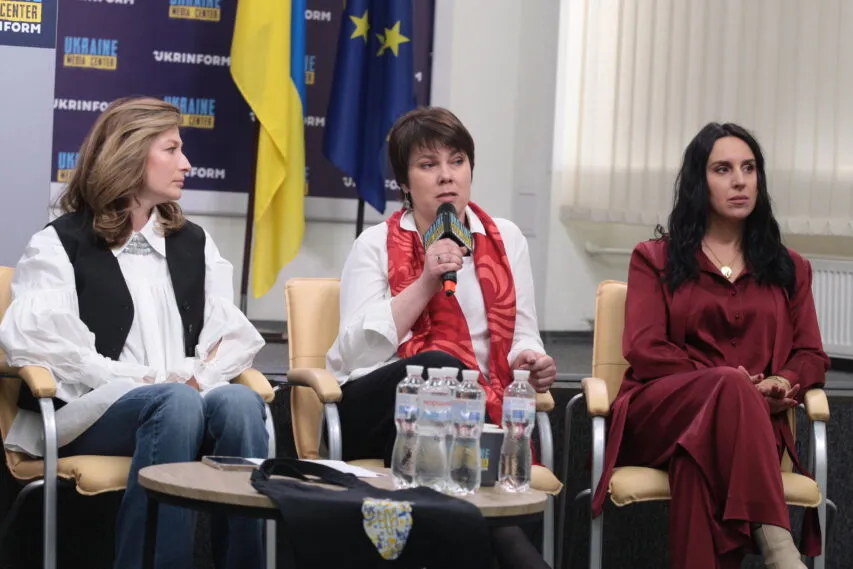 Halyna Hryhorenko, Deputy Minister of Culture and Information Policy of Ukraine, Media Center Ukraine — Ukrinform
May 3, 2023, 14:50
It was important for us that the word "war" is heard from the Eurovision stage — Halyna Hryhorenko
Since the very beginning of preparations for the Eurovision Song Contest, the UK has communicated the message that it is hosting the Eurovision Song Contest not instead of Ukraine, but on behalf of Ukraine. In addition to a number of important decisions for Ukraine, it was important that the word "war" could be heard from the Eurovision stage.
Halyna Hryhorenko, Deputy Minister of Culture and Information Policy of Ukraine made this statement during a briefing at Media Center Ukraine — Ukrinform.
"It was important for us, and we pointed this out several times in negotiations with both BBC and DCMS, that the word "war" is heard from the Eurovision stage. And we are happy that we were heard. Because the Eurovision contest has always postulated that it is apolitical, and no political messages can be said from the stage where creativity reigns, where artists compete, where there is no place for politics. We were heard, and we are very grateful for the fact that this reason will actually be mentioned, and it will be explained," said Halyna Hryhorenko.
In addition, she noted that during the preparation for the Eurovision Song Contest, which will be held in Liverpool this year, it was important to represent Ukraine's voice, vision, and music in such a way that it felt as if this contest were really taking place in Ukraine.
Read more: https://mediacenter.org.ua/news