Back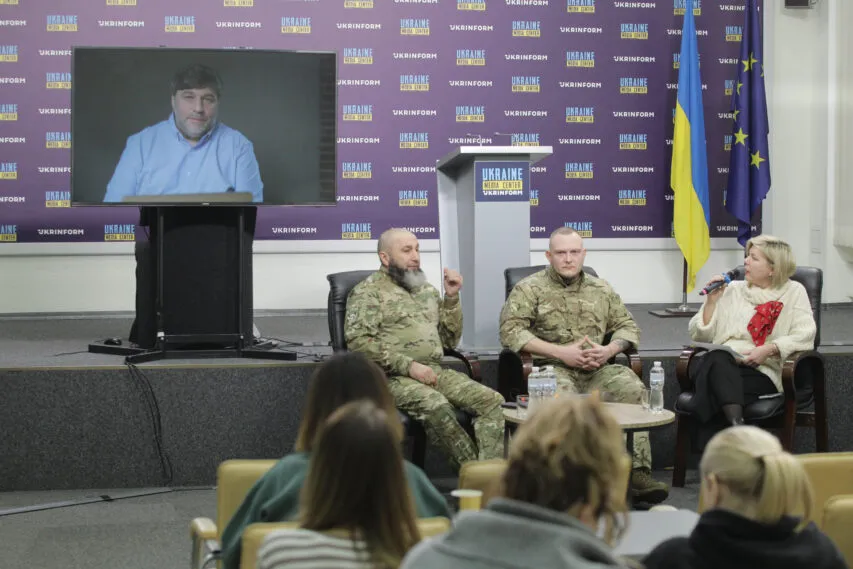 Isa Akayev, Commander of the "Crimea" Volunteer Battalion, Denys Sokolov, Civil Council – Oleksandr Fortuna, Chief of Staff of the Russian Volunteer Corps, Media Center Ukraine — Ukrinform
December 9, 2022, 13:09
"It is necessary to take part in forming the future structure of russia so that it could be a good neighbor after Ukraine's victory," participants of "The Sunset of the Empire" briefing
If russia remains as it is today, the events of February 24 will repeat themselves again and again. The empire must end, including for the russians themselves. This was discussed by the participants of the briefing "The Sunset of an Empire: How the Peoples of russia Will Exercise the Right for Self-Determination After the Victory of Ukraine," which was held at Media Center Ukraine — Ukrinform.
"The future of russia after our victory is important for us. If it stays the way it is, what happened on February 24 will come back again and again. Unfortunately, this is evidenced by historical experience. Therefore, we support the reconstruction of russia in the future, the creation of national territorial entities on its territory," — Isa Akayev, Commander of the "Crimea" Volunteer Battalion said.
"Ukraine's victory is, first of all, the return of all occupied territories. The second step is the implementation of tribunals, courts and further punishment of all those guilty of the war and subsequent reparations. When all these measures are completed, it will be possible to confidently say that the victory has been achieved. But the second aspect is that russia will not go anywhere. It will always be a nearby neighbor, and we will have to coexist with it. A parallel task is to take part in forming the future structure of this country in such a way that it is a good neighbor not only for Ukraine, but also for the surrounding world," — Oleksandr Fortuna, Chief of Staff of the russian Volunteer Corps.
"It is important not only for Chechens, Caucasian peoples, Buryats, Kalmyks, and Tatars that the empire end. It is important that the empire end for the russians. For this to happen, the regions must receive wide autonomy, the opportunity to independently develop their cultural and national identity. When we talk about russians, we are actually talking about a conglomerate of different ethnic and sub-ethnic groups, which after the victory of Ukraine and the liquidation of the political class that currently rules in russia, may get the opportunity to develop. Therefore, regional resistance movements are very important. And it is very important to completely get rid of the political class that rules in russia now," — Denys Sokolov, Civil Council said.
Read more: https://mediacenter.org.ua/news