Back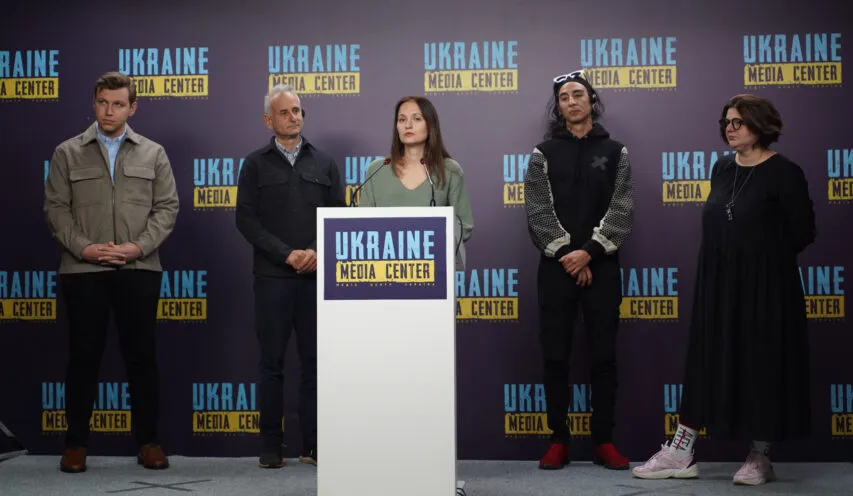 Participants of the briefing, Media Center Ukraine
October 6, 2022, 12:57
International Theater Festival "Golden Lion" commenced in Lviv: all funds from ticket sales will be transferred to support the Armed Forces of Ukraine
On October 6, International Theater Festival "Golden Lion" commences in Lviv. However, due to the Russian-Ukrainian war, its format slightly changed. In particular, due to the security situation, no traditional street spectacles will take place, only stage performances. And all funds from ticket sales will be transferred to support Ukrainian defenders. Kseniia Fedoryshyna, Organizer of the "Golden Lion" Festival, Cultural Manager of the Lviv Academic Voskresinnia Theater, told that during the briefing in Media Center Ukraine.
"This year, we don't even use the word "festival" because we will celebrate after our victory and hope to hold it in a full-scale format next year. The festival motto has always been "Classics In Terms of Experiment", but today the festival motto is "Warm a Soldier in Winter". Since the festival is charitable, all funds from ticket sales will go to support the Army, and purchase thermals for our military", Kseniia Fedoryshyna explained.
According to Kseniia Fedoryshyna, all the performances are selected to be wartime reflections somehow or other. Moreover, during the briefing, foreign participants of the festival told why they had the courage to come and perform during the war.
"We hesitated for a long time whether we should go now and we realized that we should. It is very important now to come to Ukraine to show that Canadian actors and the Canadian cultural community stand in full solidarity with their Ukrainian colleagues. And the most important is that during the "Golden Lion" we will do everything possible to support the military in their needs", Valerii Kostiuk, Associate Producer at Theaturtle, said.
"In my opinion, one of the problems is when other countries are not caring about what is going on with their neighbors. That is when people can comment on this kind of bad things so. Bringing international attention is very important. And that's why I'm here", Oscar Lambarri, musician of the Ukrainian-Canadian band "Balaklava Blues", said.
The "Golden Lion" will be held until October 11. Please see the International Theater Festival schedule here.
Read more: https://mediacenter.org.ua/news