Back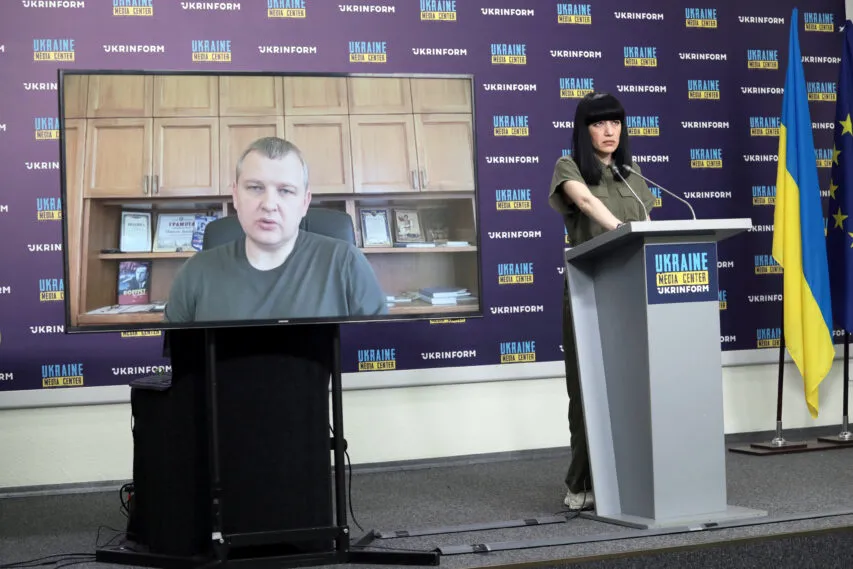 Mykola Lukashuk, Head of Dnipropetrovsk Oblast Council, Deputy Chair of the Dnipropetrovsk Oblast Defense Council, Media Center Ukraine — Ukrinform
May 22, 2023, 13:57
Injured people and damage to houses, five-story buildings and fire station of State Emergency Service — Mykola Lukashuk on night attack in Dnipropetrovsk region
As a result of the night attack in Dnipropetrovsk region, 8 people were injured.
Mykola Lukashuk, Head of Dnipropetrovsk Oblast Council, Deputy Chair of the Dnipropetrovsk Oblast Defense Council made this statement during a briefing at Media Center Ukraine — Ukrinform.
"One employee of the State Emergency Service was injured, because the fire station of the State Emergency Service in Dnipro district was destroyed and damaged. This man is 27 years old and is currently undergoing surgery. In addition, the remains of rockets and downed drones fell in the Ilarionove community of Synelnykove district. Detached houses and five-story buildings were damaged there. There are seven wounded, two of them are women, who are currently in hospital, five are being treated on an outpatient basis," he said.
Mykola Lukashuk added that rescue vehicles were destroyed as a result of hitting the fire station of the State Emergency Service.
"There is a large number of cars, including some of the vehicles that came to the region under various humanitarian programs that, unfortunately, were completely destroyed. Today, already in the morning, we had a joint meeting with the Head of the Oblast Military Administration, there was a meeting with the Head of the State Emergency Service. This week, units of the State Emergency Service were attacked twice. One of the units was also badly damaged in Kryvyi Rih. And the second one was in Dnipro district today," he explained.
At the same time, the Head of the Dnipropetrovsk Oblast Council said that additional equipment from other regions is currently expected to be transferred to Dnipropetrovsk region.
"Regarding equipment, we allocated a little more than 140 million from the regional budget for the purchase of special equipment for demining, for radiation control and detection of any threats. The Head of the State Emergency Service has already contacted the leadership and the ministry through his channels. We expect that for now additional equipment and cars will be transferred to our oblast from other regions, and this issue will be resolved in this way. Since we are a front-line area, we must have the vehicles needed to respond to any situation in full. If necessary, then we will also allocate additional funds from the regional budget for the purchase of these cars."
Read more: https://mediacenter.org.ua/news