Back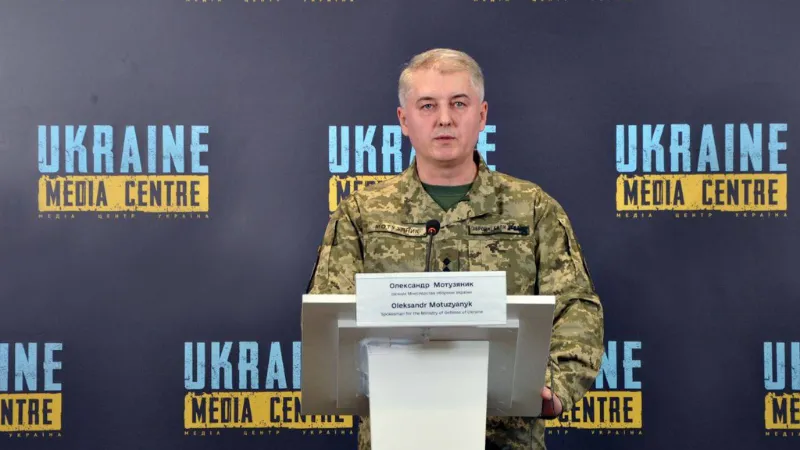 April 11, 2022, 16:35
In the past 24 hours, Ukrainian troops repulsed 7 enemy attacks in Luhansk and Donetsk Oblasts – Motuzyanyk
The enemy continues to regroup troops for an offensive in the eastern operational zone, to build up the command and control system and logistical support. The main efforts are concentrated on the offensive attack on the Anti-Terrorist Operation Zone (Joint Forces Operation Zone), the full control establishment over the territory of Donetsk Oblast and Luhansk Oblast.
This was stated by Colonel Oleksandr Motuzyanyk, Spokesman for the Ministry of Defense of Ukraine at a briefing at the Ukrainian Media Centre, taken place in Kyiv.
"The enemy is finalizing the restoring of its units and redeploying them to the territory of Luhansk and Donetsk Oblasts. We predict that active combat operations will begin any time soon. The Ukrainian army is ready for it," Motuzyanyk stressed.
According to the Ministry of Defense, Russian troops are trying to improve their tactical position in the South Bug direction and consolidate in the Kherson Oblast administrative boundaries. In the Black Sea and the Sea of Azov operational zones, enemy ship groups continue the attempt towards combat zone isolation and conduct reconnaissance and provide logistics.
Furthermore, the enemy left some units previously withdrawn from Ukraine to the Gomel (Belarus), Bryansk and Belgorod Oblast (Russia) in order to demonstrate military presence and hamper Ukrainian troops.
"The enemy continues a partial siege of the city of Kharkiv, attempting to break through our defense in the city of Izyum. The reconnaissance of probable offensive directions is conducted. In the direction of Dovhenke and Dmytrivka settlements the enemy by the efforts of up to two battalion tactical groups (BTG) tried to carry out an offensive, but having no success in his actions, was forced to withdraw to the previously occupied positions," – added Motuzyanyk.
Over the past 24 hours in Luhansk and Donetsk Oblasts the Ukrainian forces defeated 4 hostile attacks.
Enemy units continue massive shelling of Ukrainian troops and settlements, carrying out assault actions almost all along the contact line. The main efforts are aimed at capturing the populated areas of Popasna, Rubizhne and taking over Mariupol.
By means of artillery and air arms, the occupants keep on assault operations near the seaport and Azovstal iron and steel works (Metallurgical Combine Azovstal) in Mariupol. The attempts to break through our defenses in the Sievierodonetsk, Avdiivka and Kurakhov directions are ongoing. The occupants unsuccessfully tried to storm our fortifications near the village of Zolote," said Motuzyanik.
According to the Ministry of Defense of Ukraine, there remains a threat of missile and air strikes from the territory of Belarus as well as the ship-mounted weapons use by the aggressor. There is an arsenal ship carrying cruise missiles in the Black Sea.