Back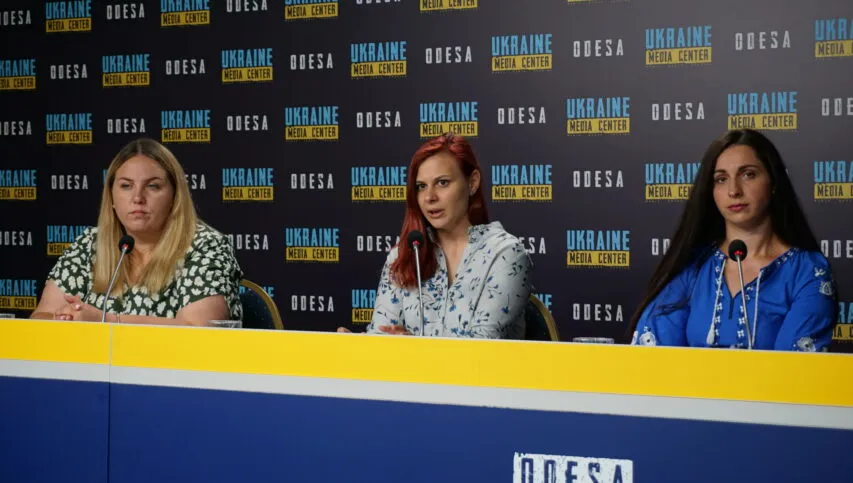 Photo by Media Center Ukraine – Odesa: Daryna Palamarchuk, leading specialis tof the early intervention center of the "Municipal clinic# 6"; Nadia Trapizanova, national trainer on early intervention, specialist of the "Regional center for methodological work and social benefits"; Maria Hrytsak, recipient of early intervention services
August 10, 2023, 14:47
In Odesa region, 200 families receive early intervention services during the war
But there is a lack of specialists, so now Odesa region is participating in a pilot project to train additional teams. Nadia Trapizanova, national trainer on early intervention, specialist of the "Regional center for methodological work and social benefits", told this at a briefing at the Media Center Ukraine – Odesa.
She noted that an early intervention is a system of assistance to young children with developmental disorders and children from biological and social risk groups aimed at improving child development and improving the quality of life of families.
"Our task is to strengthen the competence of parents so that they can ensure the child's development. We are also working to improve the environment that will be convenient for special children and their parents. The early intervention service has begun to develop in Kharkiv, Odesa, Lviv, and Zakarpattia regions, and so we can now train new teams of national trainers. In Odesa region, there are already 7 such teams working with about 200 families," – the expert said.
She added that since the beginning of the war, not only families have been under stress, but also professionals, so various exercises have been developed to reduce the impact of stress, trauma, and anxiety.
Daryna Palamarchuk, leading specialist of the early intervention center of the "Municipal clinic# 6", added that even through the war, the center continued to work, providing online consultations and visiting families in person.
"The format of work has changed a lot. When the air raid alarm sounded during personal visits, we went down to the shelters together and worked with families there. Since the beginning of the war, our center has helped 66 families, 10 of whom are abroad. And there is a shortage of specialists, because in our clinic there are only 30 families on the waiting list for an initial appointment," – the specialist noted.
Maria Hrytsak, a mother of three, told that she's needed the early intervention service for her youngest son, Nazar.
"We contact the specialist online once a week. He watches how we live, he gives recommendations on any issues. He can tell us whether toys are suitable for us, suggest creative ways to play. I can record a video with a question and get an answer the next time. This program works, and I, as a mother, have already become an expert for my child," Mrs. Hrytsak said.
She added that when she sees families with children like her son, she always recommends getting an early intervention service.
Read more: https://mediacenter.org.ua/news