Back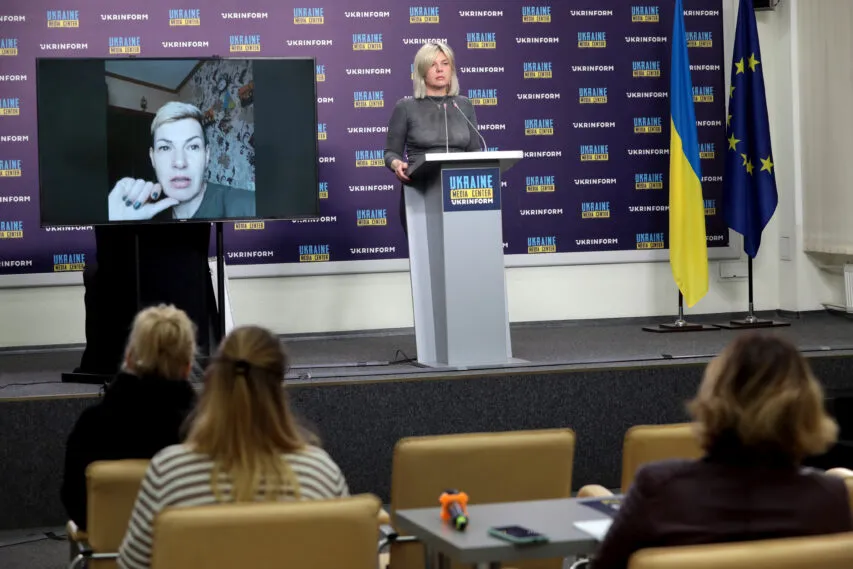 September 21, 2022, 13:04
"In Occupied Izium russians Shot at People Fetching Water from the River for Amusement," War Correspondent
Lieutenant-colonel Oksana Ivanets, a special correspondent of Armiya Inform news agency, reported about her trip to Kharkiv Oblast after the liberation during her briefing at Media Center Ukraine – Ukrinform.
In the liberated part of Kharkiv Oblast, she was impressed by a story told by a woman born in 1939; she could not get into her basement and had to wait out shelling in her semi-ruined house.
"She says now that she mured up the missing windows herself. This woman is actually a World War II survivor: her brother and father were killed during that war, and her mother died in a Nazi camp, and now she had to survive the occupation," Oksana Ivanets said.
According to the military journalist, residents of Kharkiv Oblast had to live in the basement for 5 months.
"There was a small cellar that accommodated 62 people. The youngest one was one-month old. The oldest woman was 90 years old; she was absolutely bedridden," she says.
In another basement, people had to live sitting because the low ceiling prevented them from standing.
"They had to use the bucket serving as a toilet in full view of everyone," the lieutenant colonel shares her impressions.
There was no water supply in Izium, and people had to fetch water from the river. Many of them perished after attempts to do so because russians shot at the Ukrainians to entertain themselves.
A block of apartments where 54 people were killed in the basement because the building collapsed after a bomb attack and russians prevented the people from clearing the debris to rescue the people.
"An entire family of three generations – grandmothers, parents, and their children – were killed in these ruins. I was most impressed by the exhumation as it offers the evidence that russia's special operation is genocide against Ukrainians," she said.
Read more: https://mediacenter.org.ua/news