Back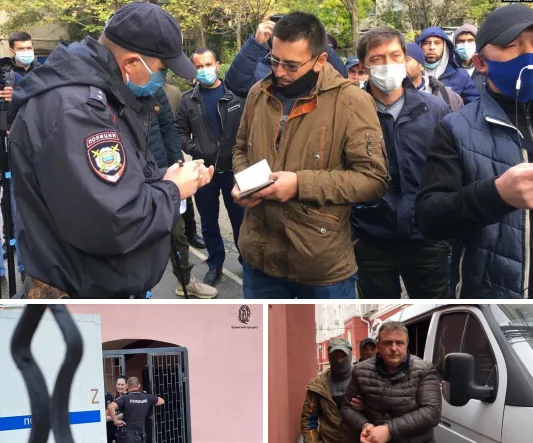 Фото з відкритих джерел Інтернету
August 23, 2022, 12:46
In Occupied Crimea, russia Keeps 14 Journalists in Custody
Tetiana Pechonchyk, Head of ZMINA Human Rights Center, disclosed this information at Media Center Ukraine – Ukrinform.
"Repressions got stronger in Crimea, and the list of political prisoners keeps growing. It also includes citizen journalists, such as Iryna Danilovych and Vilen Timeryanov. Thus, russia already keeps 14 journalists in custody. Every tenth person detained in Crimea is a journalist. Thus, we need to talk about these people and demand that they be released," she stated.
According to the head of the Human rights Center, the journalist Vladyslav Yesypenko has been held captive in russia for a year and a half.
On February 16, a russia-controlled court in occupied Crimea sentenced Yesypenko to eight years of imprisonment in a general regime penal colony for unlawful possession and transportation of an explosive device and for working for the Ukrainian special services. Vladyslav Yesypenko claims to have been tortured, for instance, by electricity to extract testimony.
"Recently, the invaders' court of appeal mitigated the sentence to 5 years of imprisonment. Of course, we have no illusions, and we all realize that the russian court will make a disgraceful decision in his case. But the fact that russia's prisons are full of political prisoners points toward the weakness of that country's leader. However, common sense and the truth are on our side," Kateryna Yesypenko, the wife of the political prisoner Vladyslav Yesypenko, stated.
She called upon the international community to exert influence on the aggressor state and force it to release the political prisoners.
Volodymyr Chekrygin, Deputy Chair of the Board of the Crimean Human Rights Group, emphasized that Vladyslav Yesypenko's case can be viewed as a handbook for political cases.
"russia applied any methods it could against Vladyslav: abduction, torture, refusal to provide an independent attorney. But he refused to cooperate. It was clear from the get-go that the case was an absolute fake," he emphasized.
Volodymyr Prytula, Manager of the Crimea.Realities Project at Radio Liberty, stated that the issue of releasing Vladyslav and other Crimean journalists is being raised at all levels.
Read more: https://mediacenter.org.ua/news