Back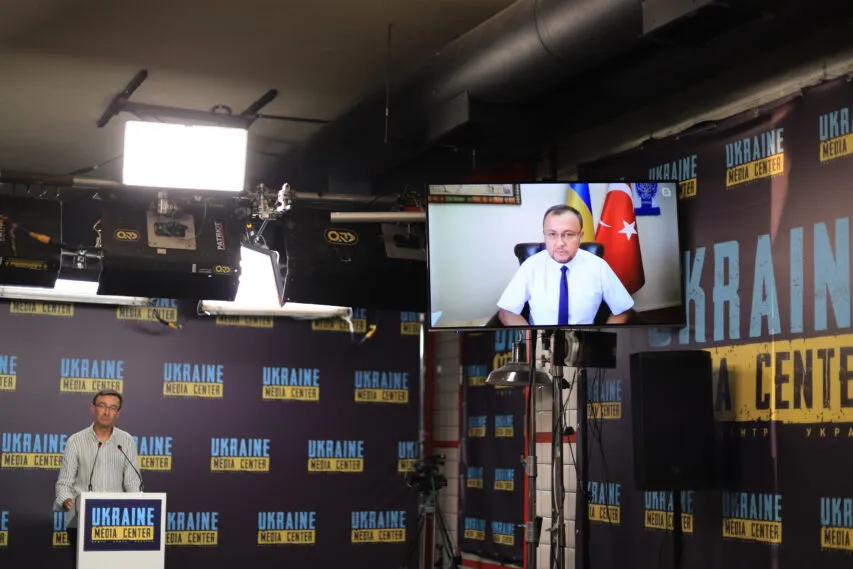 Василь Боднар, Надзвичайний і Повноважний Посол України в Туреччині у Медіацентрі Україна, 5 серпня
August 5, 2022, 14:25
"If We Manage to Kick out the Invader from Kherson, It Will Open Additional Opportunities for Exports from the Ukrainian Seaports," Vasyl Bodnar, Ukraine's Ambassador to Türkiye
If Ukraine's Armed Forces manage to kick out the invaders from Kherson Oblast or at least the city of Kherson, it will open new opportunities for exporting goods from the Ukrainian seaports. Vasyl Bodnar, Ambassador Extraordinary and Plenipotentiary of Ukraine to the Republic of Türkiye, stated this during his briefing at Media Center Ukraine.
"While the liberation of the Snake Island made it possible to reach the agreement (on grain exports – Publisher), our victories on the frontline will be conducive to the broader application of this agreement or, perhaps, a new agreement," Vasyl Bodnar stated.
Also, the speed of the performance of all procedures in Türkiye with the three vessels that have already left the Ukrainian seaports will show how much grain Ukraine will be able to export.
"We will see how fast these vessels are through the formalities and understand whether we can increase the exports to 3 million tonnes per month. With three vessels carrying 57,000 tonnes now, this figure, or even a larger one, over 30 days might well be possible," Ukraine's Ambassador Extraordinary and Plenipotentiary in Türkiye explained.
He also indicated that Ukraine must consider unblocking its other seaports and expanding the range of goods exported and imported by sea.
According to earlier reports, the first convoy with Ukrainian food commodities left the ports of Odesa and Chornomorsk on the morning of August 5. Three bulk carriers – NAVI STAR, ROJEN, and POLARNET – carry 57,000 tonnes of Ukrainian corn for buyers in Türkiye, the UK, and Ireland.
Read more: https://mediacenter.org.ua/news