Back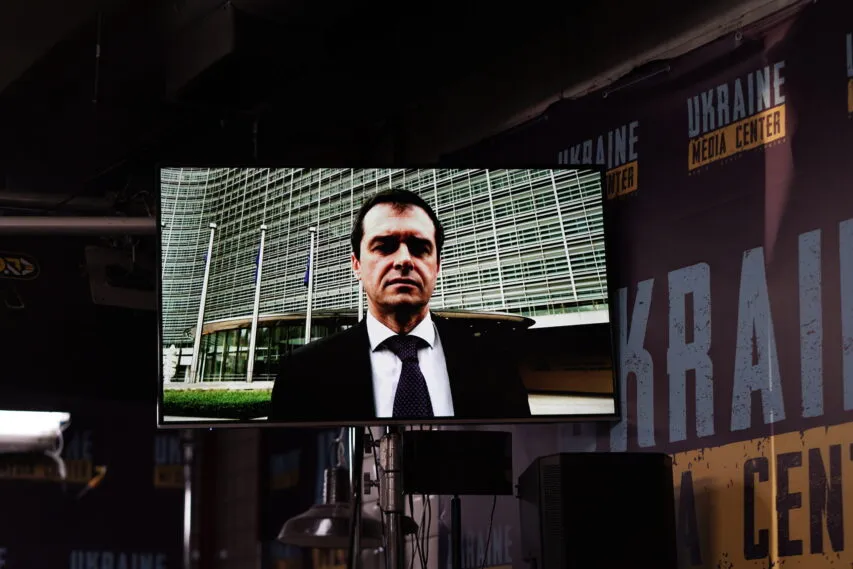 Представник України при ЄС  Всеволод Ченцов у Медіацентрі Україна, 27 червня
June 27, 2022, 13:41
Head of Ukraine's Mission to the EU Presented Plans for the Period of Ukraine's EU Candidacy
The Mission of Ukraine to the EU will concentrate on meeting EU's conditions along the path toward European integration. Vsevolod Chentsov, Head of Ukraine's Mission to the EU, told this during his briefing at Media Center Ukraine.
"It is the implementation of the seven steps specified by the European Commission for proceeding to the negotiation stage that have been supported by the European Council. Of course, the measures under the Association Agreement will be implemented in parallel. They call for bringing our legislation into conformity with the EU requirements," Vsevolod Chentsov indicated.
According to him, the steps to be implemented by Ukraine as suggested by the EU are doable and understandable. However, the war can complicate their implementation.
"For instance, the measures include a reform of the Security Service of Ukraine. It is the continuation of the police reform. During the war, we will have to concentrate on tackling the crime. In addition, the Security Service plays a very important role in fighting aggression, sabotage, and in the field of counterintelligence. So, we will have to take these realities into account. We will also engage in the dialog with our colleagues in Brussels to ensure a constructive approach and focus on helping Ukraine implement these reforms or prepare for them even during the war," Vsevolod Chentsov explained.
Brussels also emphasizes that judicial reform is one of the most important goals for Ukraine.
"I would really concentrate on carrying out these tasks. We are not starting from scratch. We need to complete several steps, and we know them well. Speaking of the Constitutional Court, they include the appointment of judges and improvement of the legislation; in the administration of justice, they include the appointment of members of the integrity council. And, again, these steps include completing reforms that have been started," the Head of Ukraine's Mission to the EU said.
Read more: https://mediacenter.org.ua/news