Back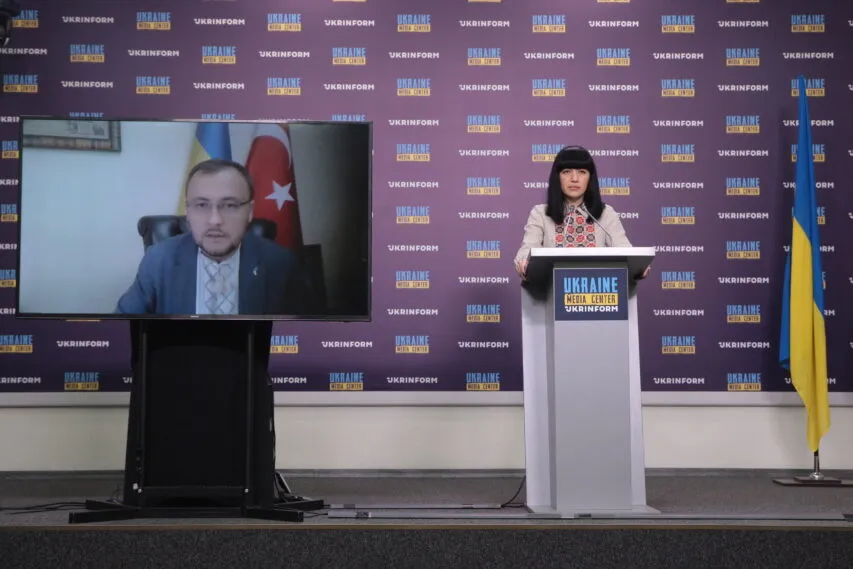 Vasyl Bodnar, Ukraine's Ambassador Extraordinary and Plenipotentiary to the Republic of Türkiye, Media Center Ukraine — Ukrinform
May 18, 2023, 15:05
Grain Initiative gets prolonged until July — Vasyl Bodnar
Despite the unconstructive position of the aggressor country, it was possible to prolong the operation of the Grain Initiative in accordance with the signed agreement.
Vasyl Bodnar, Ukraine's Ambassador Extraordinary and Plenipotentiary to the Republic of Türkiye made this statement during a briefing at Media Center Ukraine — Ukrinform.
"It is thanks to the active work of our delegation, thanks to the activities of the UN representatives (acting – Ed.) on behalf of the Secretary General, as well as our Turkish friends, that it was possible to achieve the extension of this initiative, as it should have been and in accordance with the signed agreement. That is, until the month of July," he noted.
In addition, Vasyl Bodnar expressed hope that the extension of the agreement will allow to unblock the jams that have now formed in the Sea of Marmara due to the inspection for the passage to the Black Sea and the exit from our ports.
"And it will also create conditions — this was also discussed in the package — to bring the ships that have been in the ports of Mykolaiv since the beginning of the war to international markets and transfer them to their owners. Because for a long time, since the beginning of the war, they have not left Ukrainian ports. There are difficulties there, but we hope that they will also be resolved precisely thanks to the agreements in the quadrilateral format, and it will, first and foremost, function precisely to the benefit of Ukraine," the diplomat added.
In addition, Vasyl Bodnar emphasized that the agreement itself does not envisage meeting any of russia's needs. The agreement provides for mechanisms ensuring the functioning of the Grain Corridor from Ukrainian ports to international markets.
"The issues that russia is trying to bring up now are related to the ammonia pipeline, to the lifting of sanctions from banks and organizations involved in grain and fertilizer trading. This issue is still under discussion. And it was the UN, as you know, that signed a corresponding memorandum with the aggressor country on assistance in resolving these issues. Therefore, discussions on these requirements are ongoing, and the Grain Initiative must function separately, since the document on it was signed in the exact format that we currently know of, which has been functioning since July 22."
Read more: https://mediacenter.org.ua/news