Back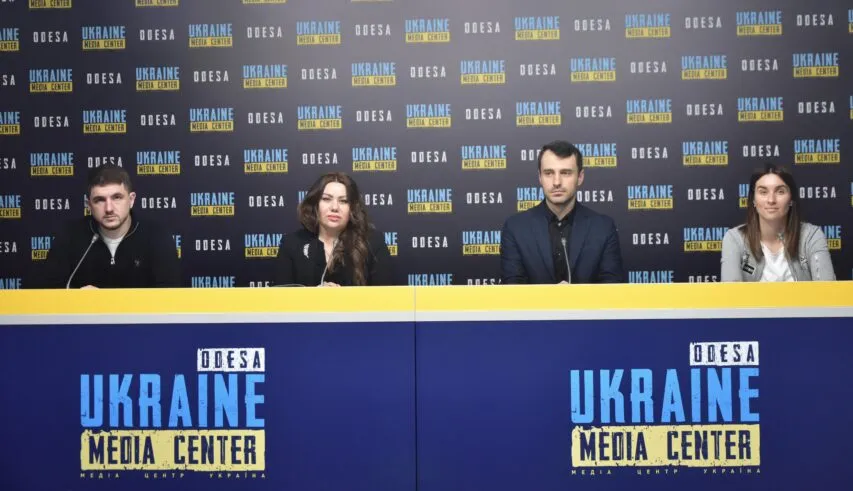 Photo by Media Center – Ukraine: Roman Hrygoryshyn, Deputy Head of the Odesa regional military administration; Olena Ivanova, head of the office of work with territorial communities of the Agency for regional development of the Odesa oblast; Artem Vyvdych, national expert on community restoration of the All-Ukrainian Association of United Territorial Communities, expert of the Swiss-Ukrainian DECIDE project; Tetyana Berlym, Deputy Director of the Odesa regional development agency of Odesa oblast
May 3, 2023, 14:03
Four more international expert events on the restoration of the region will be held in Odesa region
All willing specialists are invited to participate in the development of projects in various fields. Olena Ivanova, head of the office of work with territorial communities of the Agency for regional development of the Odesa oblast, told about this at a briefing at the Media Center Ukraine – Odesa.
This agency was co-organizer of the first Odesa reconstruction forum "Security. Integration. Potential".
"The multi-donor team will work on the development of our region. We agreed with our partners on support, and we will hold four more similar events to develop a strategic plan for the restoration of Odesa. Anyone with a professional specialization can join for strategic planning. Donor representatives emphasize that the involvement of experts is only the beginning, and they are ready to implement projects together with us," – Olena Ivanova said.
Roman Hrygoryshyn, Deputy Head of the Odesa regional military administration added, the main task of the recovery plan is to make it "a plan for economic recovery, and we did not miss help from partners, as usual, for a meal."
Artem Vyvdych, a national expert on the restoration of communities of the All-Ukrainian Association of United Territorial Communities, an expert of the Swiss-Ukrainian DECIDE project, added that the plan to restore Odesa should answer three questions.
"First: how to minimize the damage that russia can potentially cause. The second: restore better than it was. Damaged objects must be restored in accordance with the requirements of inclusiveness, ecology, and energy efficiency. Third: to develop a plan for the socio-economic development of the region until 2027, taking into account that the northern neighbor remains nearby and that Ukraine has become closer to the EU," – Artem Vyvdych said.
The results of strategic planning for the development of the region, as Vyvdych added, "must be getting answers to what projects should be implemented in the region in order to develop logistics, tourism, the agricultural sector, etc."
Read more: https://mediacenter.org.ua/news