Back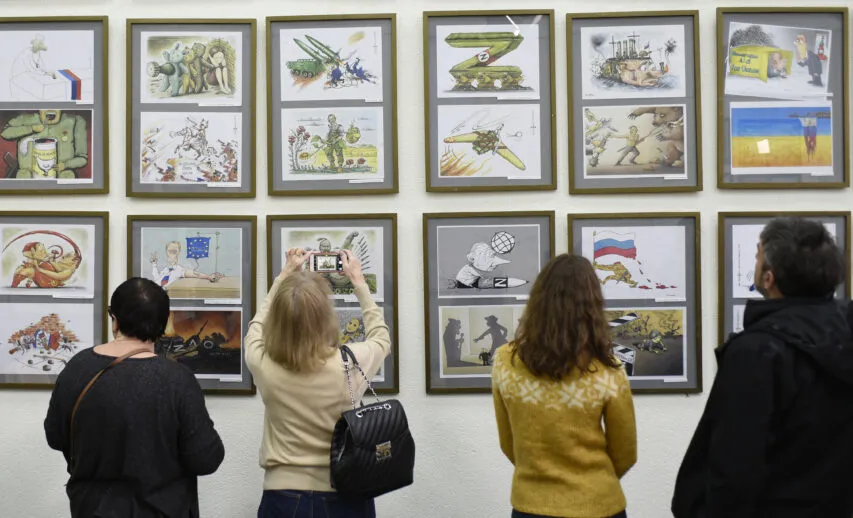 The presentation of "100 Views on War '' exhibition of modern Ukrainian caricature, Media Center Ukraine — Ukrinform
November 30, 2022, 18:27
"For 30 years, Ukrainian cartoonists have won over 2,000 prizes at international competitions, this is a world record," Oleg Smal, Curator of the Municipal Art Gallery
The presentation of "100 Views on War " exhibition of modern Ukrainian caricature took place at Media Center Ukraine — Ukrinform. Oleg Smal, Cartoonist, Painter, Sculptor, Journalist, Curator of the Municipal Art Gallery spoke about the reputation of Ukrainian caricaturists in the world and the importance of their work during the war.
"I open all exhibitions taking place during the war with one phrase: 'Life goes on.' Cartoonists, who by default are to do something funny, began to draw war. It is very difficult to do something with blood, suffering… Caricature is a specific genre. Perhaps it also works as psychotherapy, forcing people to think," — Smal said.
The exhibition features works by 11 professional cartoonists from all over Ukraine: Kyiv, Irpin, Vyshneve, Zaporizhia, Kharkiv, Dnipro, Zdolbuniv, Berezhany. These are artists known all over the world.
"For 30 years of independence, this team of caricaturists have won over 2,000 prizes at international competitions. This is probably a world record. No country in the world has so many prizes in this genre. Our reputation in the world is quite strong. Basically, this is the same team of artists that is currently representing a Ukrainian caricature on the military topic in various countries, in Slovakia, Belgium, the Netherlands, France, and the USA," — Oleg Smal added.
Currently, Ukrainian cartoonists are united around the topic of the protection and freedom of the country.
"Caricature is also a weapon. It helps the people of the world to understand the situation, the essence of this war. I sometimes quote Friedrich Nietzsche, who says that even he who fears nothing is afraid of laughter. On the other side of the barricades, the aggressors have no cartoonists. In our country, all cartoonists, without exception, rallied around the topic of protecting the country, protecting freedom. Because this is not only the freedom and independence of the country, it is the freedom of each person individually," — the cartoonist pointed out.
Read more: https://mediacenter.org.ua/news