Back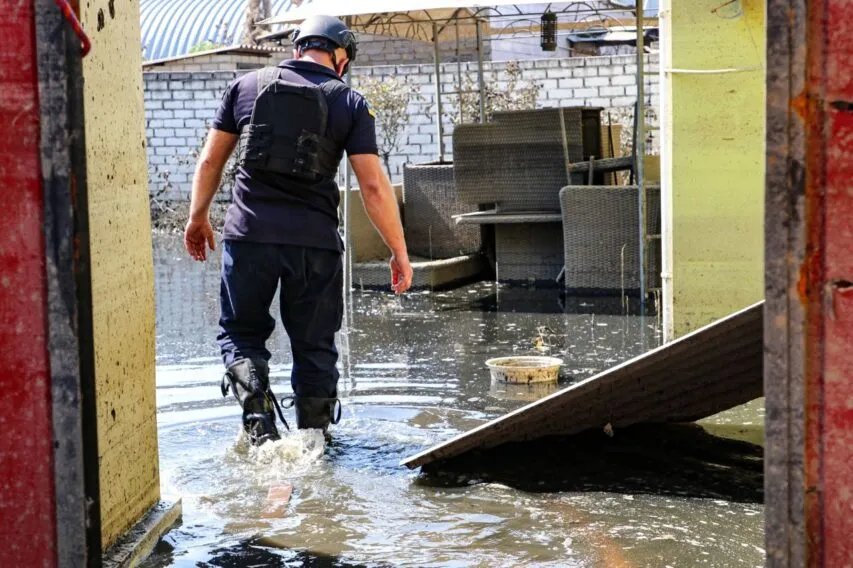 June 19, 2023, 16:10
Five settlements partially flooded, epidemiological situation under control – Yurii Sobolevskyi on current situation in right-bank Kherson region
After the disaster at the Kakhovka HPP, the water is already partially receding, however, some settlements on the right bank of Kherson region remain flooded.
Yurii Sobolevskyi, First Deputy Head of the Kherson Oblast Council, made this statement during a briefing at Media Center Ukraine – Ukrinform.
"The water is leaving. As of now, the average level is less than one meter. But five of our settlements are still partially flooded, that's about 800 houses, there is still a lot of water there," he noted.
At the same time, the First Deputy Head of Kherson Oblast Council, reported on the current epidemiological situation in the region after water had receded following the disaster at the HPP.
"As of now, it is under control. We have no reason to believe that there is a threat of an epidemic in Kherson region. But the involved medical institutions are on high alert. They are provided with medicines, they have everything necessary to react if we still have cases of serious infectious diseases," explained Yurii Sobolevskyi.
At the same time, he emphasized that water tests are constantly being carried out, and as of now the composition of water has significantly changed, and it is impossible to use it.
"Water samples are taken constantly, and the tests are always open. It is clear that now the composition of water has changed significantly compared to the condition prior to this terrorist attack. Due to heavy metals and other indicators, it is now impossible to drink this water. It can be used only for technical needs, and extreme caution is advised, because after all, certain things may be detected in this water that will definitely not have a positive effect on health."
Read more: https://mediacenter.org.ua/news