Back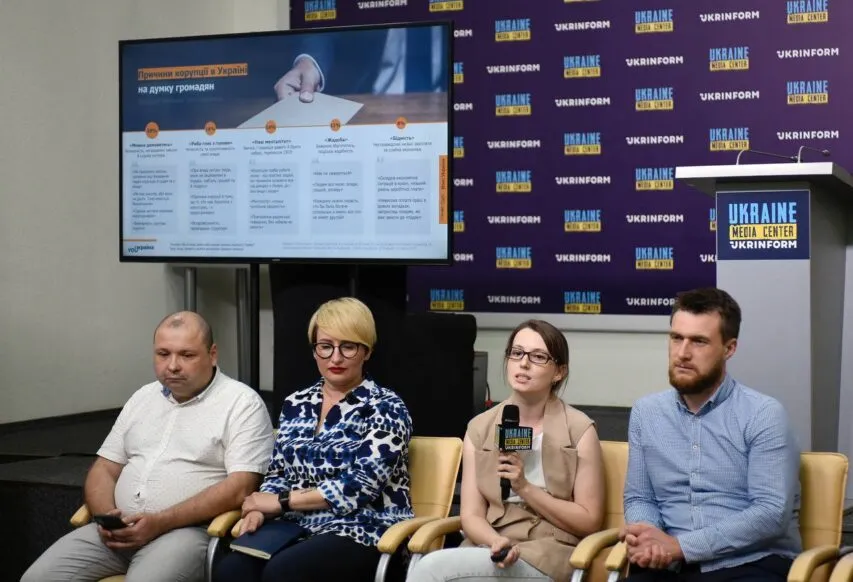 August 21, 2023, 19:55
Fight against corruption is top priority for reforming the country – survey results
81% of Ukrainians consider combating corruption to be the number one priority for reforming the country. The top five key changes and reforms also include medical (52%), judicial (47%), education (41%) and pension reforms (40%).
These survey results were presented by Ilona Sologub, VoxUkraine Scientific Editor, during the discussion at BrainHub, country's main discussion platform held at Media Center Ukraine – Ukrinform.
Referring to the survey she noted that citizens primarily expect the reforms to reduce levels of corruption and embezzlement of the budget.
"In the opinion of the population, this should be the key result of the reforms, and the increase in the well-being of Ukrainians holds the second place," the scientific editor explained.
According to Ilona Sologub, from a third to 40% of respondents believe that the reforms should contribute to the efficient use of the budget, Ukraine's accession to the European Union, an increase in Ukraine's GDP, and more opportunities for citizens to influence government decisions.
"According to citizens, corruption and embezzlement are the main obstacles to reforming the country. This is even a more important factor, according to the population, than the military conflict with russia," the expert added.
According to the survey results, Ukrainians believe that all reforms are necessary and important for the country.
"There is no unimportant reform proposed by us. But, for example, the army reform is considered more important than others – it is number one. Also, about a half of the respondents believed that the digitalization reform, creation of anti-corruption agencies, medical, educational and judicial reforms are very important as well," said Ilona Sologub.
At the same time, Nika Elizarova, Research Director at Factum Group Ukraine spoke about the public's awareness of the reforms.
Thus, according to her, citizens are least aware of judicial and tax reforms and about small privatization. However, people, who are more familiar with a certain area, are more likely to be knowledgeable about it.
Despite the fact that citizens consider most reforms important, the most successful are the reform of public services (61%) and the army reform (41%).
Judicial reform has the worst success indicators with 44% of respondents considering it unsuccessful.
It should be noted that the non-commercial study by Vox Ukraine and Factum Group was conducted in April 2023. As part of the study, 1,000 online interviews were held among the population of Ukraine aged 18 to 65.
BrainHub is the country's main discussion platform created by Media Center Ukraine – Ukrinform. It brings together experts from the state and civil society sectors. BrainHub hosts intellectual discussions around the issues of the post-war reconstruction of Ukraine. It's the birthplace of the best ideas that will become the foundation for the road map of Ukraine's reconstruction in all sectors: economy, infrastructure, education, agriculture, security, digital, etc.
Read more: https://mediacenter.org.ua/news