Back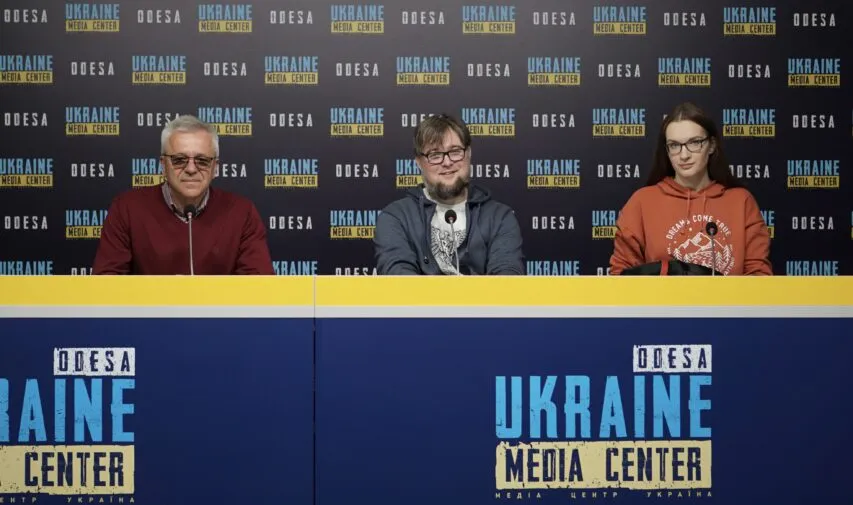 Photo by Media Center Ukraine – Odesa: Oleksandr Ostapenko, member of the NGO "Information Center Maidan monitoring"; Oleksiy Svid, photo documenter of russian war crimes in Kharkiv; Kateryna Svid, photo documenter of russian war crimes in Kharkiv
March 31, 2023, 15:59
"Fault. Kharkiv": residents of Odessa are invited to a photo exhibition of evidence of Russian war crimes
For more than a year, documentary photographers worked together with law enforcement officers – the Security Service of Ukraine, the Office of the General Prosecutor of Ukraine, and the national police. The organizers of the photo exhibition told about this during a briefing at Media Center Ukraine– Odesa.
"Since the beginning of the full-scale invasion, it has become clear that the Russian military is waging the war not only with the Armed Forces of Ukraine, but with the Ukrainian people and Ukrainian cities. It is committing war crimes. Since February 25 we have asked ourselves how to document those crimes? There was an initiative of public assistance to fix these crimes on our land. Then the "Information Center Maidan Monitoring" with law enforcement officers created a public team that helps to record those crimes", – Oleksandr Ostapenko, a member of the NGO "Information Center Maidan Monitoring" said.
He added that after the photo materials were accumulated, they got the idea of the exhibition. They wanted to show the whole world that "russia is actually destroying the future of our country – schools, hospitals, critical infrastructure, everything that gives life to our cities and villages."
"The main idea of the exhibition is when there is "russian peace", they'll try to destroy you. The city was constantly shelled from all types of weapons – MLRS, mortars, artillery. We wanted to show it to everyone. And unfortunately, our work on photographing the crimes of the Russians is not finished yet," – Oleksii Svid, a photo documenter of russian war crimes in Kharkiv noted.
It will be possible to communicate with the organizers of the exhibition on April 1 and 2 at the Veteran Hub Odesa, st. Staroportofrankivska, 26. The organizers noted they are going to present the exposition to the Veteran Hub Odesa.
Read more: https://mediacenter.org.ua/news