Back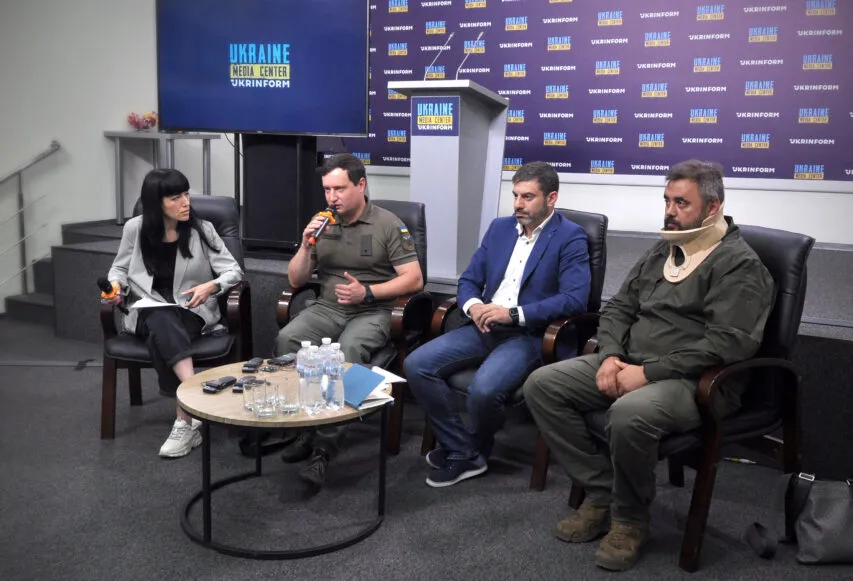 Андрій Юсов, представник Головного управління розвідки, Дмитро Лубінець, Уповноважений з прав людини, Дмитро Логгінов, позаштатний радник з питань нацбезпеки та оборони в напрямку стратегічних комунікацій ОПУ, Медіацентр Україна-Укрінформ, 3 серпня
August 3, 2022, 16:19
Events in Olenivka Are an Act of Terrorism That Needs To Be Investigated in Detail
It became known today, on August 3, during a non-public event for journalists at Media Center Ukraine – Ukrinform.
The media briefing was attended by Dmytro Logginov, external national security and defense advisor to the Office of the President of Ukraine in the field of strategic communications; Dmytro Lubinets, Ukrainian Parliament Commissioner for Human Rights; and Andrii Yusov, a representative of the Defense Intelligence.
During the event, the government representatives provided detailed information about events in Olenivka. They also stated that Ukraine had sent appeals to all international institutions.
According to the available information, russians have not given any answers to the International Committee of the Red Cross. No international institution has been granted access to the site yet.
Events in Olenivka are an act of terrorism. This is why a detailed investigation of what exactly happened there is needed.
On the night of July 29, an explosion was reported on the site of the former correctional institution in the town of Olenivka in the temporarily occupied territory of Donetsk Oblast. The building, where Ukrainian prisoners of war from Azovstal Steel Plant had been kept in custody, was destroyed as a result.
Read more: https://mediacenter.org.ua/news