Back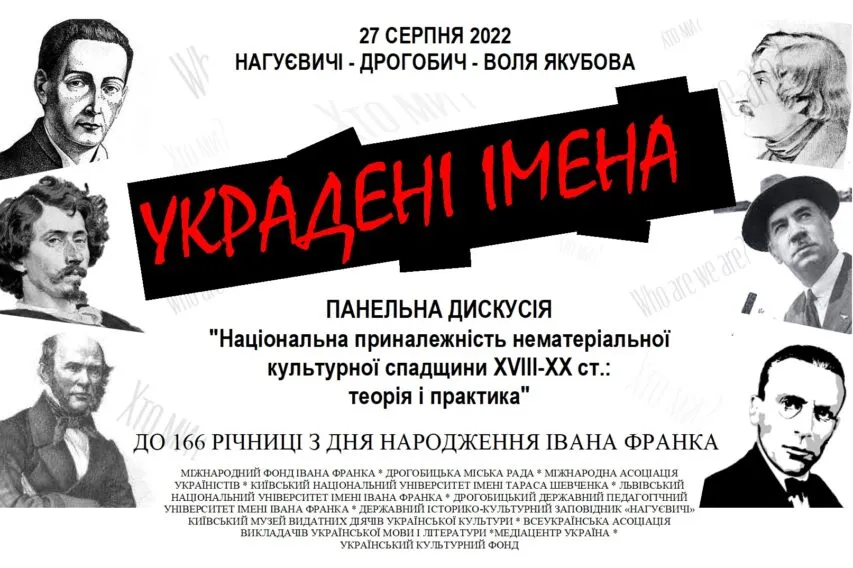 July 29, 2022, 16:39
ANNOUNCEMENT! "Ethnic Affiliation of the Intangible Cultural Heritage of 18–19th Centuries: Theory and Practice": a Panel Discussion on Occasion of Ivan Franko's 166th Birthday Anniversary Will Take Place on August 27
A panel discussion, "Ethnic Affiliation of the Intangible Cultural Heritage of 18–19th Centuries: Theory and Practice," will take place in Nahuievychi and Drohobych on August 27, Ivan Franko's 166th birthday anniversary. Discussion participants plan to develop recommendations and criteria for treating public figures as the Ukrainian cultural and historical heritage. Media Center Ukraine is the information partner of the event.
Researchers from Austria, the UK, Italy, Poland, Romania, and Ukraine will take part in the discussion. Key speakers include Giovanni Broggi (Milan), Michael Moser (Vienna), Olena Pevna (Cambridge), Victoire Feuillebois (Strasbourg), Stefan Purici (Suceava), as well as Volodymyr Bugrov (Kyiv), Vladyslav Berkovsky (Kyiv), Yaroslav Harasym (Lviv), Nataliia Kryvda (Kyiv), Ihor Svarnyk (Lviv), Taras Vintskovsky (Odesa), Iryna Sklokina (Lviv), Igor Serdiuk (Poltava), Andrii Shevchenko (Kyiv), and other prominent scientists and public figures.
Please register for the panel discussion at this link.
The panel discussion will take place live and online.
Read more: https://mediacenter.org.ua/news