Back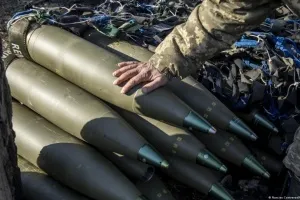 April 20, 2023, 15:00
Estonia provided Ukraine with javelins even prior to the full-scale invasion – Ambassador of the Republic of Estonia to Ukraine
Kaimo Kuusk, Ambassador Extraordinary and Plenipotentiary of the Republic of Estonia to Ukraine, made the relevant statement, during a briefing at Media Center Ukraine – Ukrinform.
"Even before the full-scale invasion began, we saw that something was coming, and if so, we must help Ukrainians. We need to assist Ukrainians to be fully prepared for such a turn of events so that they can restrain Russia's advance. We've already seen that the Allies have gradually started to arm Ukraine. We began supplying anti-tank missiles, such as Javelins, five days before the all-out invasion. I visited Boryspil airport, and I personally accompanied the first batch of anti-tank weapons that arrived in Ukraine," he emphasized.
Kaimo Kuusk noted that the percentage of equipment provided to counter Russian occupants in Ukraine is 1% of Estonia's GDP.
"We gave howitzers, provided ammunition, small arms, tens of thousands of small arms, we sent equipment. We also built field hospitals where we saved thousands of Ukrainian soldiers' lives. We provided a lot of military aid. If you put it in percentage terms, it would equal 1% of our country's GDP."
Read more: https://mediacenter.org.ua/news