Back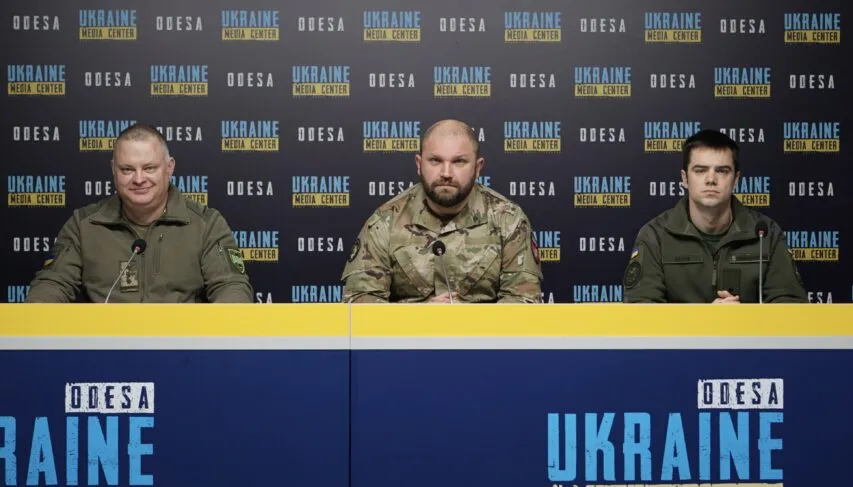 Photo by Media Center Ukraine – Odesa: Denys Ryzhuk, Deputy Head of Staff of Southern Regional Directorate of the State Border Guard Service of Ukraine; Oleksandr Hostishchev, commander of the "Tsunami" assault regiment of the Main Directorate of the National Police in the Odesa region; Volodymyr Belov, senior officer of the Southern Department of Procurement of the Image and Publishing Center of the National Guard of Ukraine
April 13, 2023, 12:52
Enlisting to "Offensive Guard" brigades has been extended until April 30
The main staff of brigades of the National Guard, National Police and Border Service was completed already on March 31. Denys Ryzhuk, deputy head of the Southern Regional Staff Directorate of the State Border Guard Service of Ukraine, told about this at a briefing at the Media Center Ukraine – Odesa.
As the officer noted, the staffing of the "Steel Border" brigade of the border service has already been completed, but the leadership of the Ministry of Internal Affairs decided to extend recruitment to the reserve until April 30.
"In the Odesa region, anyone who wants to join the ranks of the "Steel Border" brigade can apply through the website or through two administrative service centers operating in Odesa and Izmail. I can add that in general we received 7,200 applications from those willing to join us in Ukraine, 700 in Odesa region," – the officer noted.
Oleksandr Hostishchev, commander of the assault regiment "Tsunami" of the Main Directorate of the National Police in the Odesa region, added that recruitment for the "Lyut" brigade of the national police has also been extended until April 30.
"It is a very big competition, there is a selection for all specialties. In Odesa, we even had to open a new recruiting center," – the officer noted.
Volodymyr Belov, a senior officer of the Southern Department of Staffing of the Image and Publishing Center of the National Guard of Ukraine, said that the staffing of the National Guard brigades is also going according to plan. "How many people have already been recruited, I cannot say because of security considerations. I can only note that 35% of applications come to us through the Centers for the provision of administrative services, 20% – through the website https://storm.mvs.gov.ua," – the officer added.
Read more: https://mediacenter.org.ua/news