Back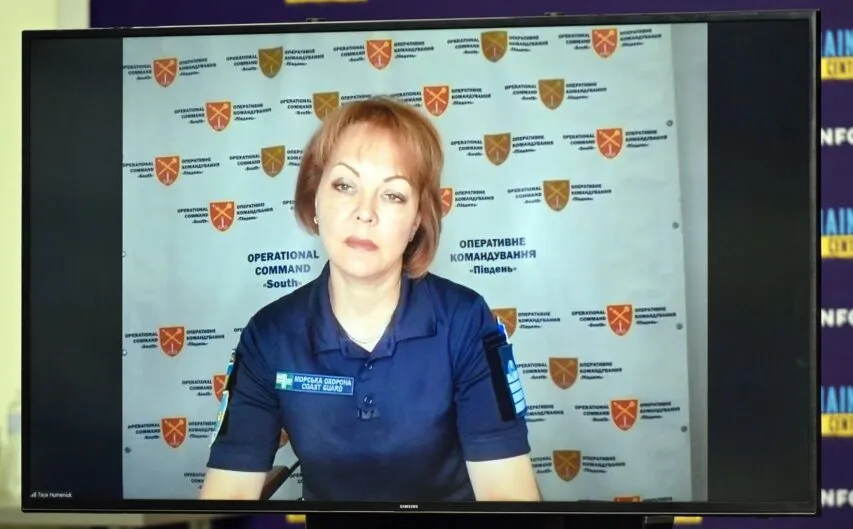 July 18, 2023, 18:39
Enemy has been targeting residential areas, critical infrastructure facilities, particularly port infrastructure – Natalia Humeniuk
In the south, the situation remains quite tense, because the enemy has not abandoned their plans and continues to stay on their defensive positions, strengthen and restore them where they were damaged by high water during the flood caused by the explosion of the Kakhovka HPP. They are returning to the positions if possible and trying to hit the civilian population. In addition, enemy strikes are often directed at critical infrastructure, including port facilities.
Natalia Humeniuk, Head of the United Coordinating Press Center of Security and Defense Forces of the South of Ukraine, made this statement during a briefing at Media Center Ukraine – Ukrinform.
"Particularly, the night attack was aimed at two southern regions – Odesa and Mykolaiv. In Mykolaiv region, four Shahed drones were destroyed. Unfortunately, an industrial facility was hit and a fire broke out. But the firefighters dealt with it quickly enough, there was no information about the victims," she said.
As for Odesa, Natalia Humeniuk says, the attack was more powerful and was apparently aimed particularly at the port infrastructure facilities.
"Although there were no hits, there are consequences of the air battle, as a result of which 21 Shahed 136 attack drones were destroyed. Then, the enemy also used Kalibrs from underwater and surface missile carriers, which were on duty in the Black Sea for a long time. The fragments of the downed missiles partially damaged port infrastructure, a part of it hit a residential building in the private sector, where an elderly man was injured," she said.
Natalia Humeniuk noted that the enemy "has recently been directing their strikes increasingly more often at residential areas, critical infrastructure, particularly, port facilities."
"Looking at the calendar, it is clear why exactly the port infrastructure of Odesa suffered this night. Fortunately, this did not affect the capacity of the port, the damage to the facilities caused by the blast wave and fragments of the downed missiles is rather uncritical," she added.
Read more: https://mediacenter.org.ua/news