Back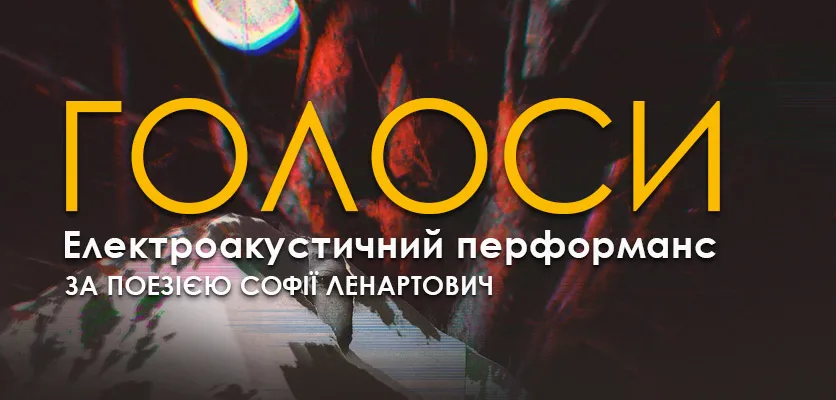 October 31, 2022, 14:43
Electroacoustic Performance "Voices" Based on Sofiia Lenartovych's Poetry Will Be Premiered in Lviv Philharmonic
On November 2, at 7:00 PM, Lviv National Philharmonic will host the premiere of the electroacoustic performance "Voices" based on poetry by Sofiia Lenartovych. According to organizers, five artists joined in a theatrical experiment to bring poetry to life with the help of electroacoustic music and archaic songs, movement and plasticity. These poems are about topics that are close to everyone. Sofiia Lenartovych, the author of the idea and text of the project, told the Media Center Ukraine.
"This is the topic of loss, the topic of restoration of personal borders without which we cannot protect state borders, and the topic of returning home, that is, to ourselves. And it is called "Voices", because we mixed different forms of art and thuswise wanted to revive poems. It means that we have music, archaic song and movement, dance and all this together results in such a performance," Sofiia Lenartovych explained.
The electroacoustic performance "Voices" is being implemented within the framework of the "Ukraine–2022. Muses Are Not Silent" project, which runs on from the end of March.
"Starting from the end of March to the present day, we have already had more than 60 live streams. The live streams are broadcasted on Youtube channel of the Philharmonic. Our page views statistics are steadily growing. We have an increasing number of donations from abroad, including from Ukraine. Our ability to support Ukrainian artists increases. First of all, we provide them with the opportunity to present their projects on our site, and we also very often find financial capacities to provide financial support to Ukrainian artists," Bohdan Sehin, Contemporary Music Development Chief Commercial Officer of the Lviv National Philharmonic, added.
Reference: "Ukraine–2022. Muses Are Not Silent" is a series of concerts of the Lviv National Philharmonic in support of Ukrainian musicians during the russian military aggression. People from all over the world can watch concerts at no charge on the official YouTube channel of the Lviv Philharmonic. At the same time, performers offer listeners from abroad to provide charitable financial support to Ukrainian musicians who stayed in Ukraine.
Read more: https://mediacenter.org.ua/news