Back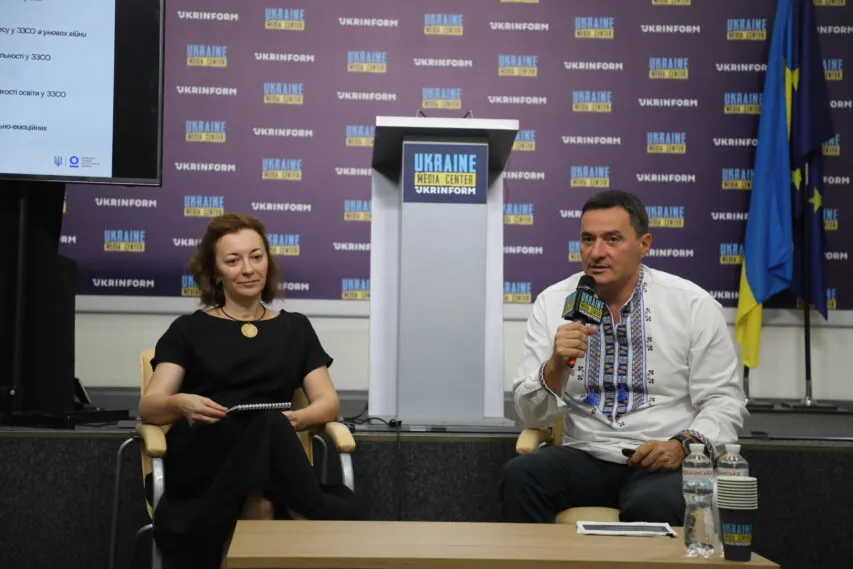 August 29, 2023, 13:55
Education in wartime: most students show average level of knowledge, reasoning tasks are more difficult
The majority of 6th and 8th grade students have shown an average level of knowledge and coped better with tasks requiring cognitive dimension skills. However, in questions requiring a display of reasoning and logic, the results are somewhat worse.
This is evidenced by the data from the nationwide monitoring study of the quality of education in institutions of general secondary education under the conditions of war aimed at tracking students' results. In order to obtain data, students of the 6th and 8th grades were tested in the Ukrainian language and mathematics (algebra and geometry), in which they scored from 15% to 50% of test points.
Ruslan Hurak, Head of the State Service of Education Quality of Ukraine, made this during the presentation of the results of the study at Media Center Ukraine – Ukrinform. In particular, he noted that 8th grade students showed slightly better results, as more of them scored points at a sufficient or a high level than 6th grade students.
He also noted that the success of students was influenced by various factors: these include both their region of residents in Ukraine and the socio-economic conditions.
"There are many characteristics that in one way or another affect the students' progress. It can be concluded that gender does not significantly affect students' learning, although in the 6th and 8th grades, girls showed slightly worse results in the Ukrainian language and mathematics than the boys of the same age," explained Ruslan Hurak.
In addition, he noted that in the center and east of Ukraine, in both the 6th and 8th grades, children coped much better with tasks in mathematics and the Ukrainian language than their peers from other regions of Ukraine
In addition, those children who lived abroad and studied online also showed higher results than their peers who studied in Ukraine.
Speaking about the results of the research and its purpose, Ruslan Hurak noted: "We want to do this and did it so that teachers, who will start the school year on September 1, could focus their attention on these results and try to diagnose their students' results once again, and look at what needs to be revised from the previous year, where their knowledge needs to be improved in order to move on to new topics. So that we don't drive children into an educational abyss from which it will be difficult for them to escape."
It is important to note that tests were developed specifically for this study. The tests were examined in order to meet all the requirements for a standardized test. A representative sample was also developed, as it included 280 schools in all the regions of Ukraine. Students, who are outside Ukraine and study online in Ukrainian schools, as well as students who are internally displaced persons, were included in the test as well. In total, about 6,000 students took part in each test.
Read more: https://mediacenter.org.ua/news