Back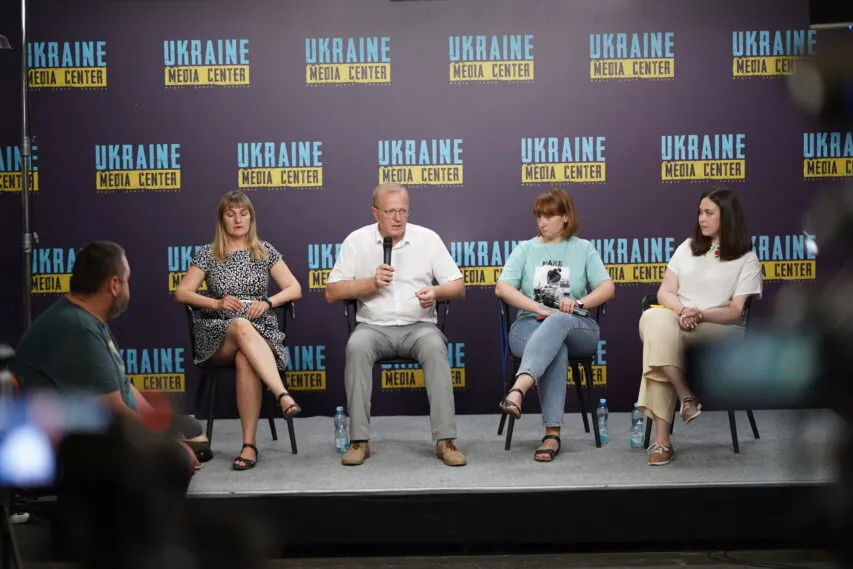 July 22, 2022, 16:54
Education during the War – What Children Can Expect from September 1: Media Center Ukraine Hosted a Discussion of the Prospects of Learning during the Wartime
The Education during the War – What Children Can Expect from September 1 discussion took place in Media Center Ukraine on July 22. Participants discussed the specific features of the education during the new wartime academic year, issues of safety, and challenges children face in adapting to the new conditions. Here we offer the most interesting quotes.
Natalia Pipa, Member of Verkhovna Rada of Ukraine, Secretary of Verkhovna Rada's Education, Science, and Innovations Committee, talked about working with children who suffered mental traumas during the war:
"One of the areas of our cooperation with the UNICEF is to train teachers to discern trauma in children. Our teachers and psychologists have not yet worked with this kind of trauma. Thus, it is of utmost importance to organize training like this not only in Lviv Oblast but also throughout Ukraine. Trauma manifests differently in different children, with some withdrawing into themselves, some becoming very active, and others not being able to concentrate. Teachers require support as well. They also must talk to someone. And this work must be systemic."
Oleh Paska, Director of the Education and Science Department of Lviv Oblast Military Administration, spoke about the availability of shelters in schools and universities.
"In our oblast, 43% of schools and universities have various shelters, ranging from the simplest cellars to radiation-proof shelters. As of yesterday, we inspected 702 institutions or around 45% of all schools in Lviv Oblast. 36% of them were authorized to teach offline. However, it should be borne in mind that schools with better shelters have been checked first. So, this percentage is unlikely to go up, as we believe. It may rise to 40-45%, and I expect it to stop at that level."
Ivanna Herus, Head of the Education, Science, and Innovations Commission of Lviv Oblast Council, explained why not all educational institutions could offer online lessons:
"Vocational education is one of the most important drivers toward Ukraine's recovery, and we need to realize that older children study in vocational schools. Their training is industrial in nature. It means that a child must learn to do something in practice. Thus, it is impossible to keep vocational schools online; otherwise, their students won't be able to become plasterers, metal workers, or turners."
Anna-Yustyna Turchynovska, Head of the School Graduates Center of the Ukrainian Catholic University, a sociologist, clarified how education institutions could be useful during the war:
"With the beginning of the full-scale war, we modified our courses in society-oriented subjects. Our teachers, together with students, did whatever was necessary at that moment: Lawyers worked in legal clinics, psychologists offered psychological counseling, and political scientists wrote appeals to the European parties. We want to keep it this way and, as the practice shows, it should be done in real life.
Read more: https://mediacenter.org.ua/news