Back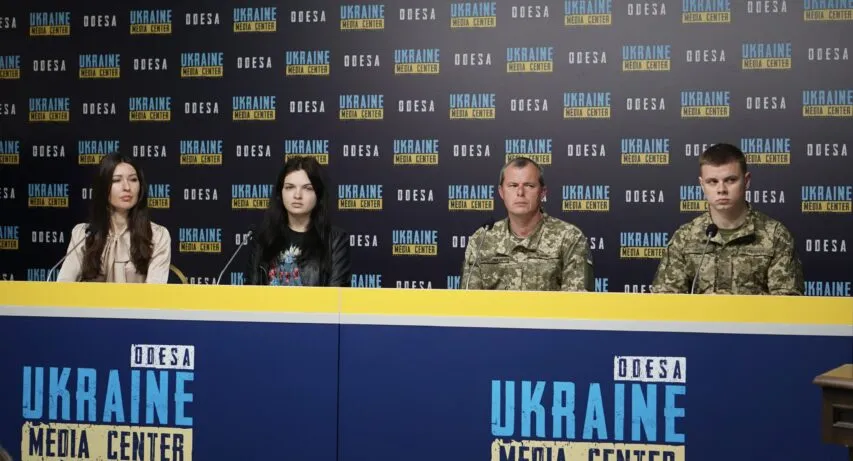 Photo by Media Center Ukraine – Odesa: Alla Bochevar, executive director of the Charitable Foundation for the Development of the Naval Forces of Ukraine; Kateryna, wife of a captured soldier, member of the hippotherapy program; Kostyantin Naychuk, private, the member of rehabilitation program; Dmytro Shykov, senior sailor, the member of rehabilitation program
April 25, 2023, 12:07
During last year, over 200 people completed treatment at the center of psychological support of the Ukrainian naval forces
These were Navy servicemen and members of their families. Alla Bochevar, executive director of the Charitable Foundation for the Development of the Naval Forces of Ukraine, told about this at the briefing in the Media Center Ukraine – Odesa.
As she noted, the idea to create such a center appeared last summer, when volunteers organized a children's camp for children of military personnel in Lithuania.
"Back then, the camp program was focused on recreation, but when we saw how the children were crawling at the ground after the sound of jet engines, we realized that we needed to engage psychologists," – Alla Bochevar said.
Now, as the volunteer noted, 211 people have completed trainings at the center. These are navy servicemen and members of their families, as well as relatives of the fallen soldiers.
The center specializes in various programs of therapeutic support, in particular, interaction with animals.
"Now we are introducing hippotherapy, treatment with the help of horses, already the second group of military servicemen is taking the course. And for children, canistherapy works very well, we work with a professional canine center," – Alla Bochevar added.
She noted that any Navy servicemen and members of their families can seek help, and future patients are also referred to rehabilitation by military psychologists.
"But word of mouth works best of all, when guys tell each other about rehabilitation in our center," – the volunteer added.
Kateryna, the wife of a captured serviceman, said that she have been visiting the center since February 2023.
"Hippotherapy has a very positive effect on the emotional state, communication with animals is very relaxing and helpful," the woman said.
Dmytro Shykov, senior sailor, the member of rehabilitation program, noted that a doctor suggested he take a course of hippotherapy. "Contact with animals greatly improves the morale, in addition, I also do some physical exercises for rehabilitation," – the serviceman said.
Alla Bochevar noted that volunteers are now planning to open a second office in Odesa and, if necessary, in Mykolaiv.
Read more: https://mediacenter.org.ua/news