Back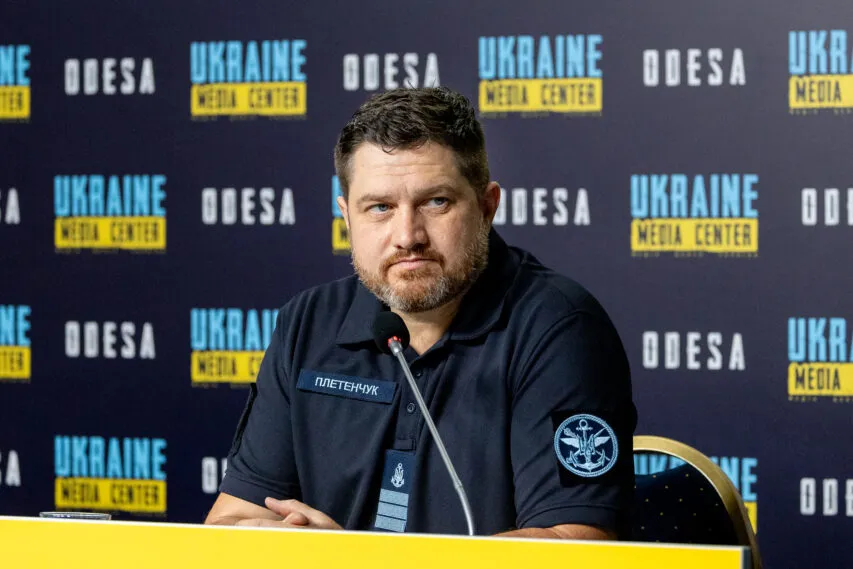 Photo by Media Center Ukraine – Odesa: Dmytro Pletenchuk, spokesman of the Ukrainian Navy
September 5, 2023, 15:18
Due to the threat of naval drones, russians stopped transporting civilian cargo by large landing ships – Ukrainian Navy
They are trying to hide behind Crimea or in the Novorossiysk Bay. This was stated by Dmytro Pletenchuk, spokesman for the Ukrainian Navy, at a briefing at the Media Center Ukraine – Odesa.
"The Russians are now trying to avoid a collision with Ukrainian naval drones. They feel the danger and are hiding either behind Crimea or in the bays of ports, where they are protected by boom barriers. They are also hiding near the second base of the russian Black Sea Navy, Novorossiysk. Russians also stopped using large landing ships to transport civilian cargo, because it is an attractive target for naval drones," the officer said.
He also noted that the Russians have changed the tactics of guarding the Crimean bridge. According to him, previously this facility was guarded by only 1-3 boats or ships of the Federal Border Guard Service of the Federal Security Service.
"Now there are 5–6 boats and 5–6 ships of the Federal Security Service Border Guard constantly there. Sometimes they involve warships, for example, the patrol ship "Pytlyvyi," – the officer added.
Read more: https://mediacenter.org.ua/news